Evergreen Content - Timeless Guide that Will Skyrocket Your SEO
Do you want to know the recipe for building a blog that earns backlinks, ranks for relevant keywords, and gets hoards of organic traffic over time? The key is evergreen content.

Term evergreen content means that the material is valuable at all points in time, independent of market factors or current factors. Marketers love this since it never gets hackneyed and doesn't need a particular reason for people to go looking for it online.
What is Evergreen Content?
It's a search-optimized content that is continually relevant and remains up-to-date for readers over a long time – as the name sounds.
You may think that all web content is sustainable: after all, a blog post doesn't just disappear you publish it. Still, this kind of content is different. It stays relevant, long past its publication date, which search for traffic increases over time.
How It Works?
The terming evergreen is most used by editors to describe certain types of stories that are always interesting to readers. It's the content that is always relevant – like the evergreen trees that preserve their leaves all year round.
Relevant and interesting content that doesn't become dated is mandatory in order to be found by search engines. It holds a strong position in search engine rankings for years from when the article was first published.

What Isn't Evergreen Content
To fully understand how to produce perpetually relevant content, you need to grasp what kind of stories and pieces aren't evergreen.
Blogs that have numerical reports and statics that may change or become out of date evidently feature a limited window of usefulness.
If you're posting a non-evergreen piece, it's best to be specific, since someone may search for info from a particular year for comparative purposes. But don't expect it to bring a lot of stable web traffic.
Reports on current fashion trends or clothing styles become dated rapidly, as will pop culture fads and references.
Holiday or seasonal articles aren't usually evergreen. Still, if the content is general enough, searches for information about annual holidays such as Christmas, Easter, and Halloween, may find your article during those times of the year.
News reports aren't generally evergreen, but they have value for historical context and for producing a public record.
Evergreen Formats
Below are standard evergreen formats you may take into account creating:
Lists;
Tips;
"How to" tutorials;
Product reviews;
Videos.
Writing in these formats doesn't automatically make your post evergreen. Still, these kinds of content tend to lend themselves to evergreen writing more than other forms.
Instructional videos providing helpful information, like "how to detail a car", have a more lifetime than a less practical video.
More Evergreen Article Ideas
Still racking your brain for some evergreen forms that will help your business.
Here's a comprehensive list that will work for you.
Original research;
Effectual case studies;
"What went wrong" case studies;
How-to for beginners;
How-to for advanced users;
How-to checklist;
How to Choose the right product;
How to make money over time;
Successful resources list;
Top free and paid tools list;
Best books for a specific aim;
Common mistakes in a particular industry/niche;
History of a product or topic
15 Best/worst practice to achieve a specific goal
16 Complete review of a topic or niche
17 Everything you have to know about something.
Of course, you must address evergreen subjects that are relevant to your business. If you sell garden supplies, relevant evergreen topics might include "how to keep your garden cleaned" or "different garden tools and when to use them."
If you want to generate more leads for your carpenter business, a post on what type of wood is best for your area will work as an evergreen article.
The problem with generating great evergreen ideas is that often, it feels as if the best topics are already covered, maybe even in excess.
In this situation, the key will be to add a unique viewpoint to a popular subject, or go into more depth and give additional details.
Seek for long-tail keywords that have volume but not ultra-high competition. If you're in a specific niche market, you may find that there's less content on the web about your theme, making your evergreens even more valuable.
Evergreen Content Examples
Here are some examples of what would be considered evergreen articles for a variety of industries:
The ultimate guide to SEO – this can be narrow in scope and extremely valuable for someone new to developing and implementing campaigns on SEO;
How to Care for a New Dog – Animals and the Internet are a great combination, and articles like these are fun and instructional for fresh pet owners.
10 Ways to Make Tea – Coming into the colder months, a post like this can provide a lift in traffic. Twists on old classics can be an excellent starting point for an evergreen article.
But, some or all of these topics won't be relevant to your brand. You must produce content that provides value to your specific audience.
Examples of Popular Evergreen Sites
These sites are the best represents of successful evergreen marketing:
Wikipedia;
Dotdash;
Answers;
IMDb;
eHow.
These guys publish huge quantities of evergreen articles and a wide variety of subjects. eHow, for example, ranks on the first page for almost all of "How to" Google searches. Anyway, in an effort to churn out pieces, some of these sites end up making low-quality articles.
It's good to visit them not only to see some examples of evergreens, but also to explore how some of these sites are lacking, and how you can improve them.
Benefits of Evergreen Content
With this piece of content, you can obtain new clients and bring more traffic to your blog or website. Since it'll last over time, there are higher chances that the content will be relevant.
You should spend more time on these kinds of posts to magnify their quality and value for search engine optimization.
You also need to provide a positive experience to users if you'd like to appear on the first page of the SERPs. You need to become the #1 answer to their questions.
Also, as they're long-lasting pieces, businesses or bloggers probably link your post to theirs, so you'll get more visibility.
Evergreen Content SEO
To better understand why this ageless content is so compelling, it's important to realize how search engine optimization works.
Search engines work in the following three phases:
Crawling – the discovery of content;
Indexing – analysis of keywords and storage of content;
Retrieval – user query fetches a list of relevant pages matching indexed keywords.
Search engines continuously use spiders to crawl hundreds of billions of existing web pages for keywords that best match a user's search query. Part of the algorithm for indexing pages involves data regarding dated or expired content that hasn't had many views in recent history.
For instance, if it's a story about welders' pay in a particular year, then search robots will index the page accordingly. But a more general query to find out the "average salary of a welder" won't put the content from last year at the top of the SERPs.
Since timeless content really has no expiration date and usually utilizes keywords that can be searched over and over again, search engines are more likely to pull up a particular evergreen article consistently.
How to Write Evergreen Content
Now that you discover what "perpetual" content is and is not, along with the sorts of formats that work best, here're some killer tips for writing this type of content:
Select the right keywords – We mentioned already that longtail keywords may be the key. Even the most lasting evergreen article isn't worth much if folks aren't searching for that topic, so do your keyword research;
Optimize for SEO – Once you have your keywords don't forget to apply the best SEO practices for on-page optimization. Add alt text to images and place the keyword in the title, URL, and throughout the body copy – but don't stuff the keywords! You should also link related evergreen articles together to increase SEO rankings;
Write for newbies – You may feel the need to share your specific knowledge, but do so in a way that works for beginners. Specialists aren't likely to be searching on broad subjects, and you want to create everlasting content for a large and recurring public;
Skip too technical language – Newbies often don't understand overly-technical language, so try to avoid using it whenever possible;
Repurpose the content – When you produce a valuable piece of content, there are many methods you can spin it and re-use your good ideas in different formats.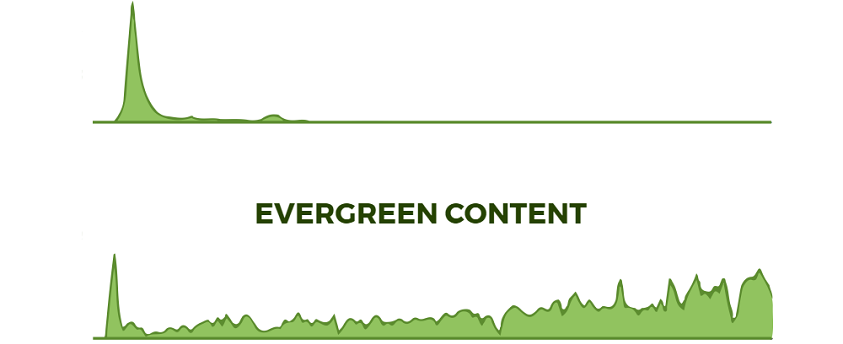 Don't Forget Evergreen Content on Your Blog
Once you've produced long-lasting article, don't simply leave it on the blog. If you publish the content on "set it and forget it," mode, you won't get results you're hoping for.
Instead, you need to try to highlight your valuable evergreen content, so that's automatically seen and accessible by site visitors.
There are a few practices you use for this purpose:
Build training guide passes on your blog that is targeted to a broad public and help the audience easily and quickly point to your how-to terminology and content;
Highlight the evergreen blog posts in the sidebar of your blog or in a banner on the homepage;
Re-run best evergreen posts on your blog periodically to present your work to a broader audience;
Make a "start here" page on your site that helps folks with the basics and features tutorial content;
Create a social media campaign around the content across all of your networks.
The ROI of Evergreen Content
In plain English, the ROI of good, like Wikipedia content, is incalculably high. When performed right, evergreen content can drive tons of traffic to your website for years to come. With a powerful keyword strategy, adequate topic selection, and rich, well-researched, and informative content, you could be well on your route to business success.
Update It Regularly
Also, to highlight your content, you must ensure that it stays "fresh". Yes, there shouldn't be much you have to do to update this type of content, but there will be new articles to which you can link.
Content update and its date of re-publishing can help with SEO strategy. There are loads of case studies of how updating this type of content can catapult Big G rankings.
Once you've updated the content, promote it as if it's a new article.
When Should I Write Evergreen Content?
The answer is today! A website's future, especially that of a business engaged in digital marketing, depends heavily on content. Therefore, writing quality articles should be among the top things on your priority list.
If you assure the readers that articles will benefit them greatly, you'll reap the harvest of high rankings and significant income.
OrganicSoft – #1 Lead Generator in San Diego
Standing out in a cluttered landscape demands the ideal combination of creative content and SEO to keep your clients coming back for more. Based on in-depth research, our SEO team crafts efficient business strategies, complete with attention-grabbing content and marketing tools to set you apart.
As the leading San Diego SEO company, we offer lead-generation marketing, conversion marketing, SEO and website design services. Call us now and let's make something beautiful.