Google My Business – How to Set up and Optimize for Local SEO Success
With a Google My Business Account, you get more than a business listing. Your free Business Profile lets you easily connect with customers across Google Search and Maps.
What is Google My Business
Google My Business (or GMB) is part of the Google business ecosystem which allows you to add a business to Google or better say list business and that way makes it eligible to show on Google Maps, Knowledge Graph and Google Local Pack for keywords related to your company and location.
Thru out the years, GMB was known as Google Places and Google Local. For all those years it gone thru minor changes but remained the most powerful tool if you want to succeed in local SEO. The user interface has changed slightly, the dashboard also had few facelifts over the years, but the purpose remains the same – list your business name, address and phone number (NAP) in front of the local community. The best part is, it's FREE!
Why Do You Need Google My Business Page?
Mostly because of four reasons. To show up on Google Maps on desktop or mobile browser, Google App, Google Map app, and Google search in browsers. Aside from these, your business information is visible in Google Home and Assistant voice search.
How GMB works? Let's say you run a pizza bar in San Diego, California. Someone searches for keyword Pizza (without "near me" or location prefix or a suffix like Pizza San Diego), your GMB page will come up if it meets Google guidelines (read about them below) in Local pack like on the image below.
Listed are pizza bars in searcher location. Along with the business name, there are working hours, address, phone number, and driving directions. Using this information you can find a bar easily, call them to make a reservation, read reviews, check if they have a parking lot, or even visit the bar's website (if they have one).
This is the perfect place to say that Google My Business page is not the same asset as the website. Having a GMB page doesn't replace a website. If you want to have the best customer experience, the site is a MUST. Remember that you don't have to have a physical location to claim a business on Google. Businesses like electrician, HVAC, or plumbers don't have a store that customer can visit. Instead, you can add the area you serve. Now, let's search by business name. This will show us GMB under Knowledge Graph that appears in the right-hand side. This way we can find out business NAP but also its description, category, recent post and offers, reviews (not just those on Google, but across the web, like Yelp, Facebook or other business directories) and lately very popular Q&A.
As you can see, it's impossible to have a strong online presence without GMB listing. Other search engines offer similar solutions, like Bing's Places for Business, but Google My Business page can drive 90% of relevant traffic to a website alone.
This tells how authoritative business tool GML listing is, but only if it's set correctly. Read below how to set up GMB listing and optimize for best searcher experience.
How to Create Google Business Page
This step-by-step guide with print screens will show you how to get your business on Google and create a Google business page.
To claim a business on Google, go to
https://business.google.com/
and click Add Location on the right-hand side. Now choose
Add Single Location
(a most common scenario).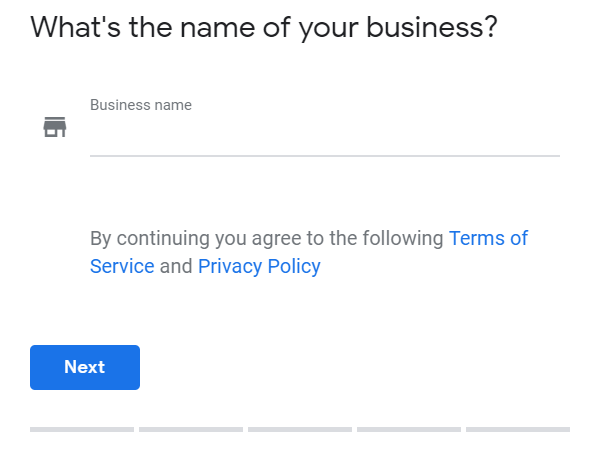 Add your business name and click Next.
Here is essential to neglect not to use keywords in a business name. If you offer business insurance in New York don't create a business name as New Your Business Insurance, instead, use only the name of your company. Google will treat businesses with keywords as spam, and your listing will probably end up at the bottom of a local pack where no one can see it. Now choose if your business has a location that is possible to visit.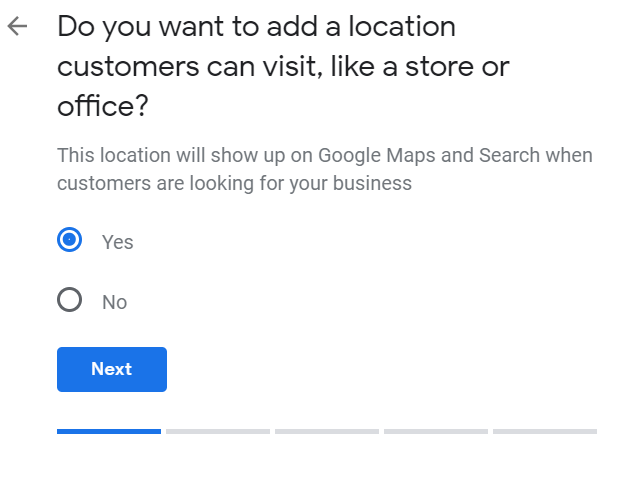 And add Country, State, City, and ZIP code like on the image below.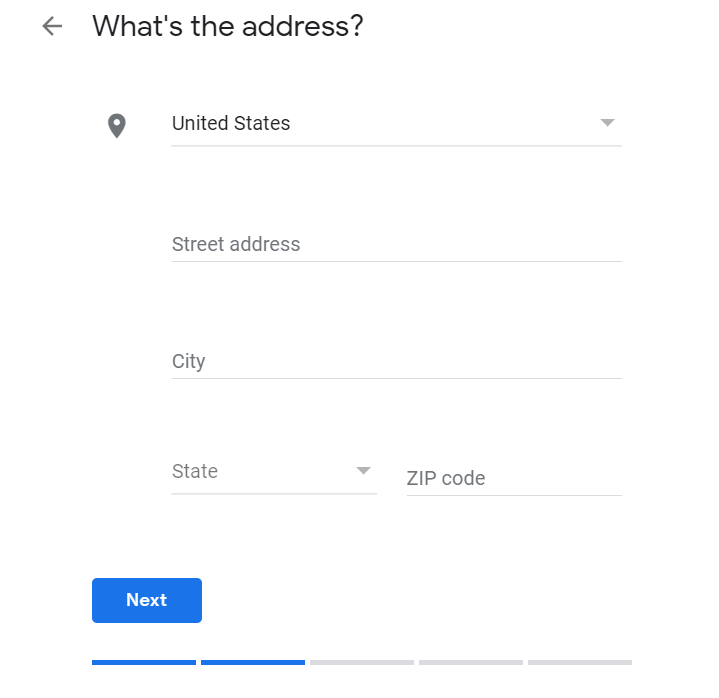 Once you have added business address, choose if you serve customers outside your location. Businesses like pest control, HVAC, plumbers, contractors or similar are going to select Yes. If you run a coffee shop, choose No. But if you offer a delivery service, Yes is the right answer.
Although the next step is optional, take time and add areas you serve.
Next step is to choose the business category. This can be edited later but try to select the best appropriate category to describe the business and add few more once you claim your business.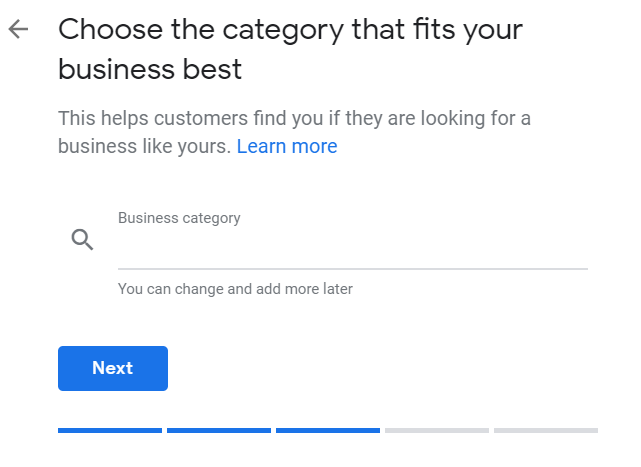 After selecting the category add the most business info (contact details).
Add your phone number and website if you have one. If not, choose I don't have a website and click Next. Once you claim a business, you can make a free website using a website builder in Google My Business dashboard. More about this feature in lines below.
Once you fill out everything click Finish.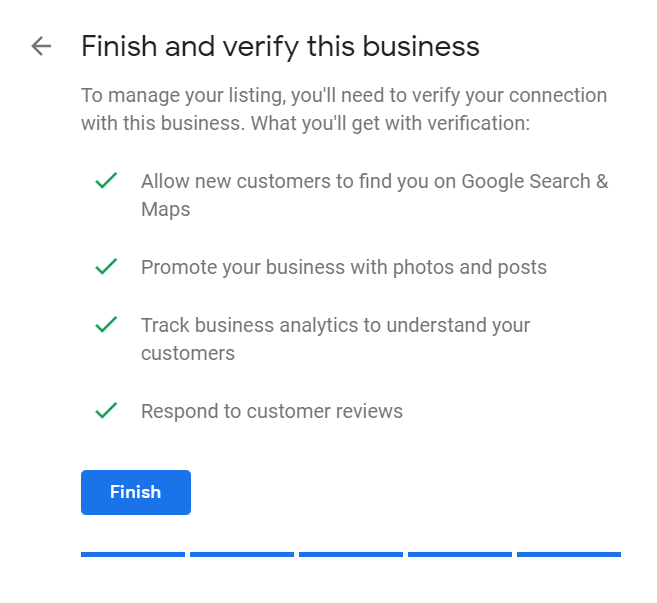 Final Step is to verify business on Google. To represent and manage a business, Google will mail verification code to address you entered a few steps back, so make sure information are accurate and up to date.
Add Contact name and click Mail.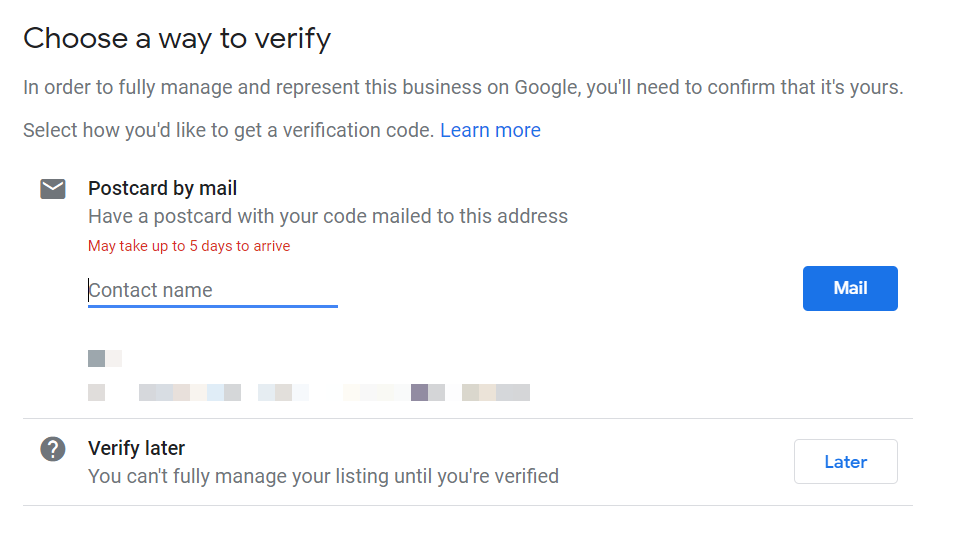 You can skip verification, but you can't manage page and do updates nor check page insights until the business is fully verified.
There are other ways for Google My business verification: by SMS, or by phone. Verification by mail is most common, and it usually takes two days to receive a white envelope from Google. Once you get verification code sign in to Google My Business, go to Manage Location, click Verify Now and add 5-number verification code. Congrats! You have successfully listed your business on Google. Now proceed to GMB listing optimization.
Google My Business Optimization Guidelines
Let's start with the basics. Once you have verified your business, edit the Business Info section. Click Info on the left-hand side (see image below) and start adding:
Business description – use this section to describe the business and what you do. Use your primary keywords and let people know what services you offer, what areas you serve, when your business is established, what certifications you own, etc. In this section, it's not allowed to use hyperlinks, so there is no point to include a link to your website.
Add website – this is self-explanatory, add URL of your site if you skipped this in previous steps.
Add business images and videos – click Photos and add pictures or videos of your location (interior and exterior), team, or projects. Don't forget to add a logo and cover image. Businesses who include images have way better online exposure and authority. Images are possible to see next to your business name and map, so make sure they are high-quality and up to date. Cover photo in Google My Business is 1080x608; logo has dimensions of 250x250. If you sell products, don't forget to add Products Images and optimize with ALT tags. Alt attributes are used by search engine bots, include the relevant keyword.
Add one or two extra business categories – Category is the significant signal that tells Google about your business, so don't use just one for your listing. Check category list and suggestions as you type and if it's possible include few more categories. For example, if you are an IT specialist, include computer support and computer services as well. Computer security is also relevant to this type of business.
Add working hours – Add hours and always keep this section up to date, especially during the holiday season and if you serve clients in your location.
Add highlights – wheelchair accessible, woman or veteran-led or payments options are just some of the attributes you can highlight.
When complete steps above proceed to Posts.
In this section you can:
Add Update
– here you can share the latest blog post or write a post just for GMB listing. The post is limited to 1,500 characters, but you have the option to add a call to action element like Buy, Learn More, Order Online, Call Now or Sign up button. Post also includes an image or video. If you search on Google for business by name posts will show up at the bottom of Knowledge Graph, under reviews and Q&A. Visit this link and learn more about
GMB Posts
.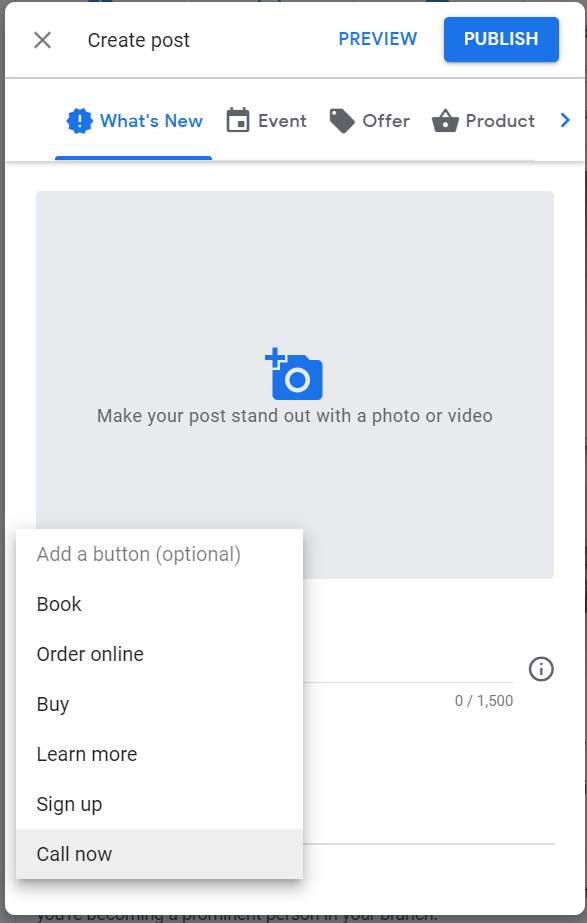 Add Event – a very convenient feature if you want to promote special events like a new product or weekend sales. Event post also is limited to 1500 characters, includes image or video, CTA elements. In regard to Posts, Event has a Start and End date.
Add Offer – Offer includes all features as above, plus coupon code, link to redeem offer (optional), and link to terms and conditions (also optional). Finally, you can promote products using Add Product feature. This type of post includes product image, price, details, and CTA element so you can send traffic to the product page on your website.
All these features make Google My Business handful tool for product and service promotion. Looking at the SERP, we see that only a small number of businesses use it correctly and in its full potential. Optimize your listing on Google; this is an excellent opportunity to improve local SEO.
Let's move to tracking and insights.
Google My Business Insights
An integral part of GMB dashboard is an Insights section. Insights are Google's attempt to show how customers found your business and how they interact with it. Basically, this is a simple version of Google Analytics that tracks action within Google Maps and Search.
Most important data to look in Insights are:
How many times searchers found your business on Maps,
How many times searchers discovered your company on Search,
Common actions that customers take on your listing (visits to your website, request directions, call you or message you)
Data is possible to break down by week, month, and quarter.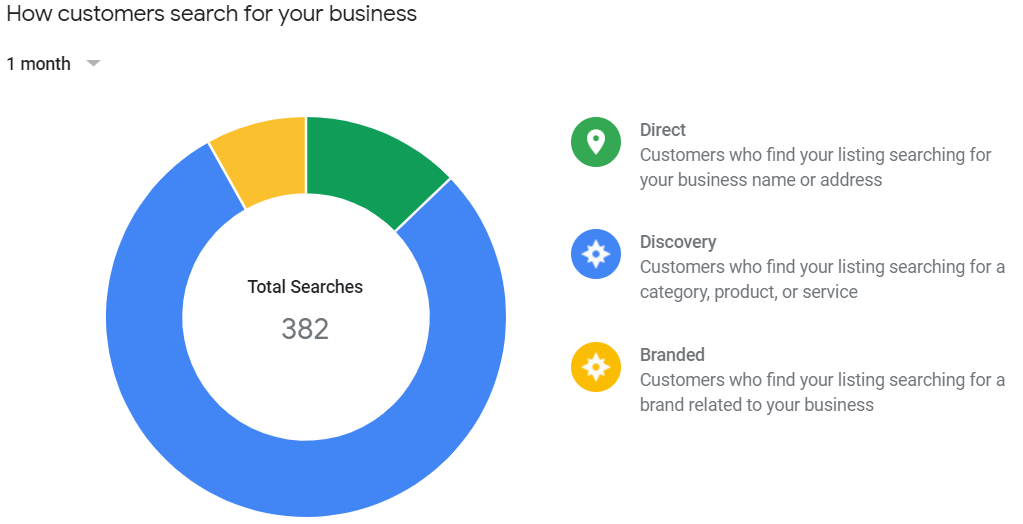 Let's dive deeper into numbers above. Customers can find or discover your business in three ways:
One of the most valuable data in Insights is search queries. These are terms or keywords or key phrases used by searchers to find your business. So, why they are so important? You can use them to write content on given topics or use those keywords on website pages, and that way improve on-page SEO. Plus, they are a great source of information when creating Google Ads or Posts mentioned above.
1. Direct – this number shows you how many times customers found your business searching by business name or location. Logically, these types of searches come from people who already had interaction with your brand

2. Discovery – this number shows how many times your listing showed in the local pack when people searched for service, product or category you offer. 3. Branded – if a customer searches for the brand in relation to your business, it'll count as a branded search. Search Queries in Insights
Popular Times
Popular times show hours by day when your business has the highest number of visits. Not website visits, but location visits. Google determines this number as they track location data on people's smartphones. On the same way, they track driving traffic. The chart shows visit average duration.
For businesses who don't have a physical location in GMB listing this chart is empty.
Photo Views
Lastly, but equally important as other portions in Insights reports are Photo views. This number tells you how many times photos of your business have been viewed compared to similar businesses. Remember, searchers will be more likely to click on businesses with photos. Images give necessary dose of authority.
Create a Website Using Google My Business
If you still can't afford website here comes another cool feature of GMB platform - possibility to create a free website. With a built-in website builder, you can easily and in just a few hours make a website with basic functionality.
Website builder usually picks latest posts, address, phone number, working hours, and reviews (in this case testimonials), combine all of them, and that way creates simple web presentation. Choosing colors, different fonts, buttons, adding photos or heading is relatively simple, but this solution doesn't offer integration with Search Console nor Google Analytics, so you'll have to trust GMB Insights fully.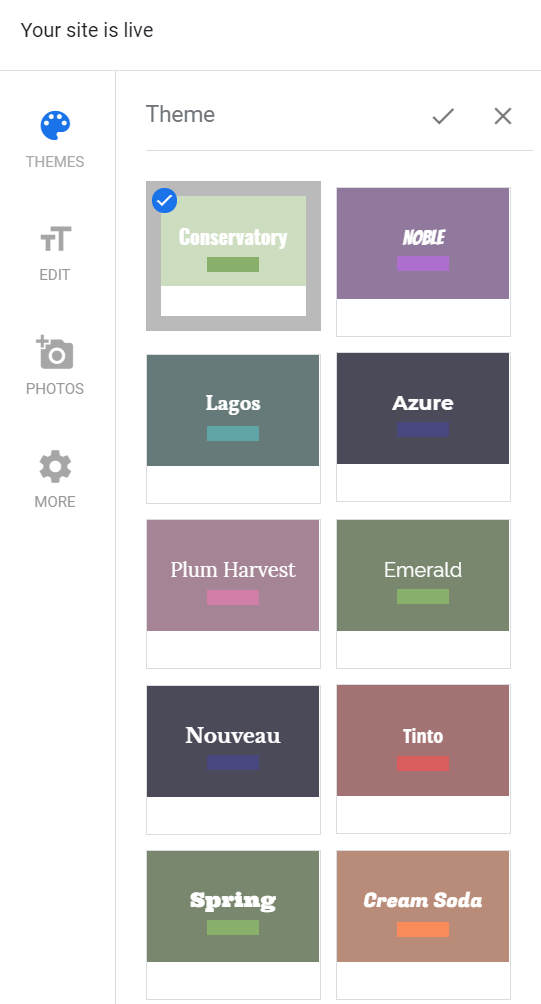 It's FREE to create website buy you'll have to pay if you want to migrate from Google domains to more SEO friendly domain. The site is fully responsive, and if you are willing to try Google AdSense, adding ads and banners is an intuitive and straightforward process.
Although, the site builder is Google's fantastic step to help small businesses you definitely should invest in a website and buy .com domain.
Reviews - User Satisfaction and Interactions with Clients
Everyone who has a Google account can rate and review your business. Reviews can be seen by others on Google, and that is why you as a business owner or business representative have a chance to reply, say thanks or explain what went wrong if the review is negative.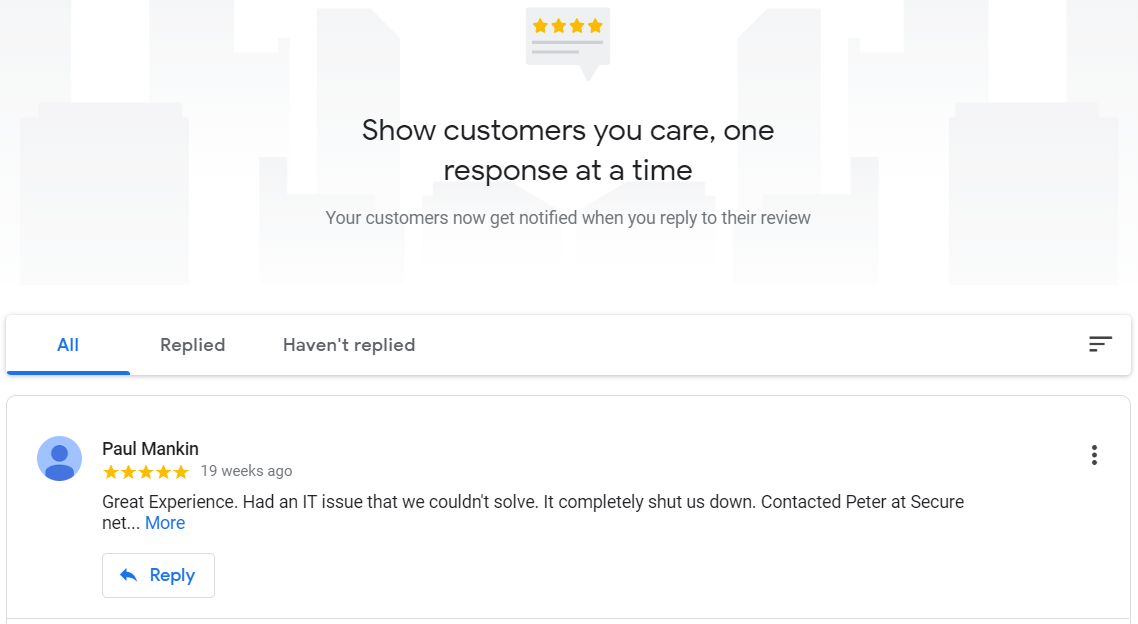 Customers usually trust online reviews, and that is the reason you need to take reviews managing seriously. Brand awareness goes hand in hand with online reputation, and the community will appreciate when they see you are willing to help every customer who left a review.
Conclusion
You've learned how to create Google Listing and optimize Google My Business to improve visibility on Google local pack, Maps, and Knowledge Graph. No matter if you serve clients at your physical location or the customer's location heaving well optimized GMB listing is search engine optimization tool that shouldn't be neglected.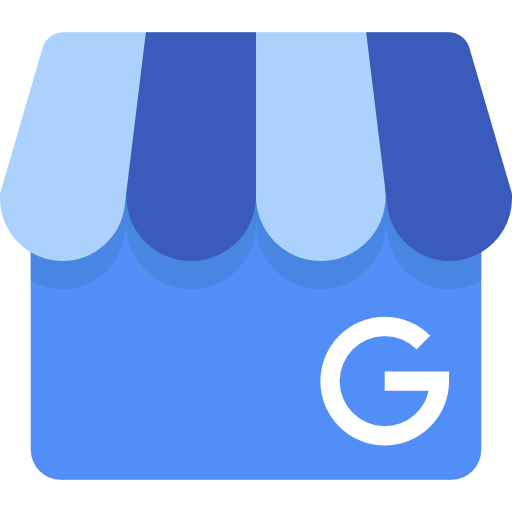 Having Trouble with Local SEO?
If you are struggling to rank because of local competition and big industry names, get help from SEO professionals. OrganicSoft is San Diego SEO company who can help you achieve strong local online presence no matter of competition level or industry you are competing in. Ring us at 858.800.2526 or hit Contact Us button and our reps will contact you the same day.