WEBSITE DESIGN
We design fast and mobile-friendly automotive websites for car dealers. Intuitive inventory management and fantastic conversion rates guaranteed.
SEARCH ENGINE OPTIMIZATION
Using the science-driven methods, experience, knowledge in an automotive niche and AI tools we know the fastest way to deliver measurable results.
LOCAL SEO
Generate leads from the local community, show up in Google Maps for automotive and car dealership keywords and phrases.
PPC
We are a certified Google AdWords partner since 2007. Reserve fist sport on SERP with the most engaging automotive ads.
ROI REPORTS
Get a detailed ROI report at the end of a month. Know your website traffic, leads number, rankings and sales.
Car Dealer SEO Guide – Best Way to Win More Sales
SEO or search engine optimization creates content relevance and keyword to focus on improving website presence in the organic SERPs for car dealership websites. Implementing the right SEO practices will help your business to attract more customers. According to Google, car shoppers spend over 12 hours researching vehicles online, and the average car buyer only visits two dealerships when they're searching for a new vehicle. So, the closer they get to purchasing, the more critical it's that your business appears in their "eyes" (search results). Google has specific guidelines for ranking websites, and SEO for car dealers will improve your website quality and relevance.
What is SEO?
It's the process of improving individual elements of the website to make it more possible to rank for the keywords that are most relevant to your company. The fundamental aim of SEO is to optimize all of these elements continuously so that you can eventually hit the first spot in search results, above all of your rivals.
How Does It Work Actually?
Search engine optimization frequently evolves since it's based on ever-changing algorithms set up by the search engines to give users the best results. So, for instance, if Google decided it favored websites with black backgrounds over those with any other color, search engine optimization would have to change to match that parameter. Google's priorities are less random than preferring the color, of course, but you get the point. An accepted practice in search engine optimization a few years ago may not work now, and that leads to the perception that SEO doesn't work well. Therefore, if you're utilizing outdated practices or guidelines, your website won't rank well. Search engine optimization only works when you use the current best methods. When you do this, Google will improve your website's ranking, leading to an increase in traffic and, in turn, conversions.
Benefits of Car Dealer SEO
Folks don't have time to surf through endless sites to find what they need. They'll look at two or three, and skip the rest. In fact, 60% of clicks go to the top three websites in search engine results. That's the main reason why search engine optimization is essential for car dealers marketing. Below are a few other benefits.
More leads
When you rank higher than your competition in search engine results, your site gets more attention and generates more clicks. It often translates to more leads and better sales – more than competitors can grab when they rank lower. If you only add a simple keyword to your site like a car dealership, you'll barely enter the top 100 in any search. If, however, you also add keywords concentrated on your location and inventory, you begin to rank higher among users searching locally, leading to more targeted traffic during the time. The way SEO aids you to target more specific traffic is with the use of long-tail keywords, which are ultra-specific. These would be keywords such as "Ford Transit in San Deigo" or "2015 Red Jeep Wrangler." These types of keywords get fewer searches, which means people do search for them, they're more likely to convert. Additionally, search engine optimization targets users who're already searching for the services and products you provide, meaning that the SEO traffic is highly targeted.
Greater website authority
Folks tend to have a more favorable view of high-ranking sites. They consider them as more authoritative and respectable. As your website ranks higher, it'll take on improved authority, making it the go-website for users searching for auto dealers. When you rank better, you'll be seen as a leader in your niche and known to have beneficial information that people can learn from.
Improves your business awareness
You might be the best car dealership in the town, but if you aren't on Google's first page, you won't attract new clients or close sales. Automotive SEO will ensure that your dealership appears in front of a relevant audience online. It'll increase awareness of your brand and ensure that more people can find and contact your dealership. When more folks are aware of your business, not only will your dealership be their #1 option for when they need to purchase a vehicle, but the name of your dealership will also spread by word of mouth.
Long-term strategy
In comparison to traditional marketing, SEO delivers long-term benefits to your business. Car dealers with top positions in Google through search engine optimization services still stay there for some time. Even after marketing has stopped – search engine optimization benefits to automotive dealers is difficult to beat.
Better user experience
Potential car buyers who visit car dealer sites that are optimized through digital marketing campaigns have a much better UX (user experience). People are more likely to contract or visit the dealer when having a positive experience online.
Auto Dealer SEO Best Practices
Today, the best practices for automotive SEO marketing provide a mix of content marketing, social media, and online marketing services. It's an on-going operation of optimizing content and website elements, which includes constant research and testing to satisfy user queries. Following these SEO practices can improve traffic on your website dramatically.
1. Car Dealership Websites Design
Website design is pivotal for an algorithm to understand a rank site easily. Sites with poor design won't rank good on Big G. Since
search engines are built to read HTML
- a webpage composed entirely of Java or Flash will be mostly invisible to search engines. Images with embedded text are equally challenging to understand – so a carefully designed and
responsive website
is essential to be recognizable and easily ranked by a search engine. A floppy designed site will typically, and unsurprisingly, have a bad UX. Since search engines are aimed to point users to the best option as quickly as possible, a site with bad user experience isn't ever going to rank highly.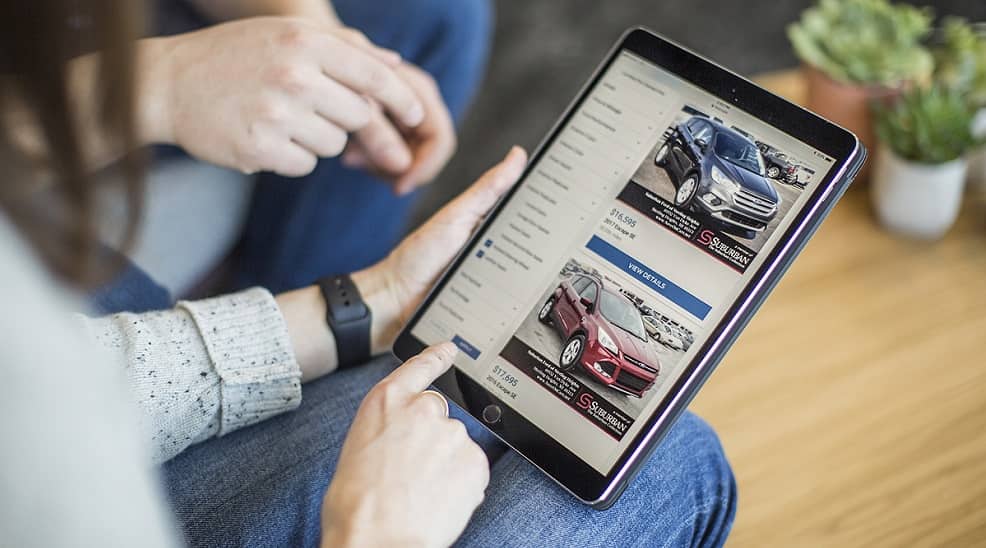 2. Keywords
The first thing that people often do when looking for a vehicle is to type relevant search terms into the search engine. The only way your website will crop up is if your content includes those search terms. In the beginning, you'll have to do some keyword research to understand what terms your customers are looking, and then write the content related to those keywords. Think about what your car dealership offers in terms of vehicle models, service, and locations served. Try to implement all of those words and phrases into the content in a natural way – for example, in a few paragraphs on the homepage of your website or by producing individual pages or even blog posts that concentrate on specific topics. Avoid keyword stuffing, though, or using a primary keyword too much and to the point that it doesn't feel organic. Also, you can earn Google penalty you for this.
3. Be mobile-friendly
Mobile devices are changing the way folks search for products and make purchases on the Internet. Having a mobile-friendly website is a necessity that will help you stand out from your competition, plus make it easy for visitors to interact with your site on their mobile devices. When updating or redesigning your site, always ensure that your website will be mobile responsive.
4. Create quality content
Both people and search engines like fresh, authentic, and quality content
. And users will be more likely to find out more information about your dealership after coming across useful content you posted online. Start by
creating a blog
and publishing interesting information about your industry. Blogging is an excellent way to interact with potential clients and answer questions they might have about your dealership or inventory. Also, you can fortify your website with content about the cars on your lot and the services you provide.
5. Internal linking
You may be regularly publishing articles or blogs related to your services and market. There's a high possibility that some of your articles co-relate, this's where internal linking comes in. It's a useful strategy to improve the linking structure of your site, thereby securing an overall point of
on-page SEO
.
When you link one article to the other related one, the potential to get more views increases
. Plus, it enhances the chances of converting a potential client into a buyer.
RANK IN GOOGLE TOP 10 FOR $500 MONTHLY
SOUNDS GOOD?
perfect for new, local and small businesses, includes technical seo, on-site optimization, local SEO and copywriting
6. Guest blogging
This process generates traffic for your website by creating quality content for other sites and adding keywords linking back to your website if the editor allows it. When you write a post for another website about selling SUVs, you can also add keywords so that the visitors of that website could also look at what you have to offer. That's why this is a trusted tactic to help overall web traffic your platform receives
7. Optimize every website element
Typically, you'll add keywords and phrases to your content, but search engine optimization doesn't stop here. In fact, utilizing the same word too often can make a shoddy copy, which turns off visitors. Instead of overusing keywords in your blog, add them to other places. It may include the alternate text of photos, URLs, title tags, and the meta descriptions associated with each page. These can both help you boost your rankings and enhance the likelihood of someone clicking through to your web page. Don't forget to add any articles or blog posts in your website content. The more often your business is associated with your selected keywords, the higher your website will rank. Write it naturally, since search engines don't favor unnatural content – and impact your rankings as a result.
8. Use Google My Business
If you haven't already, you have to claim your business listing on Google My Business. It's a quick and easy technique for car dealerships to manage their online presence with Google.
A GMB page that contains the right information about your brand can have a positive impact not only on the online traffic but can make your business easier to find for people to view your inventory.
When
setting up Google My Business account
, make sure to have all of your contact details listed accurately, categories selected, times listed, a profile and header image, as well as a description of your business.
Ensure that the NAP (name, address, phone number) related to your business is listed in the same format on your GMB page and the site
. You should always use the same NAP layout on all websites mentioning your company.
9. Earn positive Google reviews
91% of users read online reviews, and 42% of consumers form an opinion about a product or service based on just one to three reviews. You could lose measurable leads if your online rating is lower than three stars. Only 14% of individuals will do business with an organization that has an average review ranking of one or two stars. To start protecting your business reputation by
earning positive Google reviews
- by getting in touch with your existing client base and inviting them to provide feedback on your business. They can help you identify if your dealership needs to make improvements or adjustments.
10. Make it a regular task
Whether you work on optimizing your website every day or every week, it has to be a regular part of your digital marketing plan. Otherwise, it won't help you reach your marketing goals or increase your visibility online.
7 Things to Avoid in Auto Dealer SEO
As we mentioned above, to deliver consistent results, car dealers have to keep themselves up to date with emerging SEO trends and techniques. They'll also have to avoid common search engine optimization mistakes, including.
1. Not employing an expert team
Don't hesitate to outsource your business processes to
SEO experts
. They'll focus on online marketing and bring up your website ranking. This arrangement lets the automotive dealer marketing and sales team to do what they always do best - converting leads and selling vehicles, while the SEO and digital marketing partner provides measurable website ROI.
2. Keyword stuffing
In the past, keywords stuffing worked well for improving website ranking. But, today, Google penalizes keyword stuffing, and the consequences for your business can be quite severe. Now what works well is engaging site content that has the proper keyword density, with the keywords naturally implemented into it.
3. Not updating the SEO
As said earlier, search engine optimization is a continuous process and not a one-time activity. Update your auto dealer website periodically and keep it keyword-optimized at all times, to meet emerging search trends.
4. Forgetting link building activity
One of the critical search engine optimization operations is link building activity, which is all about getting healthy backlinks from other authoritative sites. The number and quality of these links will have a positive impact on your website ranking.
5. Not publishing content regularly
It's imperative to post content on your car dealer website regularly. It's equally important to go out there and publish content on other reputed platforms, in order to bring in organic traffic to your web page.
6. Targeting the wrong people
For a successful SEO campaign, targeting the right audience is necessary. In this context, the targeted audience is your local car buyers within 70 miles or so of your dealership, who needs to either purchase a car or service one periodically.
7. Skipping regular performance & analytical checks
One of the best practices to improve your website ranking is frequently checking website performance and analytics. You will unearth hidden website issues, which can then be addressed before your auto dealer website ranking takes a huge hit. There are loads of useful free SEO tools such as Google Analytics and Google PageSpeed Insights to help you with website analytics.
OrganicSoft – Drives More Sales to Your Business
Potential clients are searching for new & used cars online every single day. Google is the first place folks go to research cars. Increasing your dealership online visibility is becoming more important to sell vehicles. That's where our car SEO services can help. Promoting your firm via the search engines is by far the best way to drive a steady stream of ups onto the dealership floor. We build links to your website, optimize your site for search engines, for the keywords related to your business, and target audience in your market area. As your dedicated SEO company, we also include a broad range of marketing services such as SEO, paid search management, content marketing, web development, as well as proprietary analytics and ROI tools. Contact us today to talk more about your business needs!