WEBSITE DESIGN
We design fast and responsive websites for real estate that look great and have fantastic conversion rates.
CONTENT MANAGEMENT
Keyword optimized, engaging and useful content every realtor needs. We got you covered!
LOCAL SEO
Generate leads from the local community, show up in Google Maps for real-estate keywords.
LINK BUILDING
We provide links for trusted and high-authority domains to boost your rankings fast.
MONTHLY ROI REPORTS
Get a detailed ROI report at the end of a month. Know your traffic, leads number, rankings and sales.
The 10 Ultimate Real Estate SEO Tips
The current of the digital era has brought a lot of changes, not only to the people's private lives but also to their businesses. Being a real estate agent means that you must provide your potential clients with a broad insight into your services, which means that you should establish an online presence as soon as possible. How? By implementing real estate SEO optimization. The digital environment has made things more accessible. You see headphones on Amazon, you click "buy now"; you see a cute puppy, you click "adopt now"; you want to buy a house, you contact the real estate agent with one click. The point is that none of the online shops and businesses we know today wouldn't have been so popular if their owners hadn't made an effort to optimize their websites and make them visible for search engines.
Search engine optimization (SEO)
is vital for contemporary businesses that need to stand out from the crowd of their competitors. If you're not familiar with the concept and you'd like to know more about it, the following post will reveal the secrets of successful real estate SEO.
What is Real Estate SEO?
The primary goal of SEO is to make your website rank highly on search engines, such as Google, Yahoo, or Bing. When someone decides to purchase a property, the first thing they do is googling. A search engine will provide tons of results for the term they've entered to the search box. For example:
Buyers will probably click on some of the results found on the first page, which is beneficial for well-ranked websites. However, your site won't come to the first page by itself. There is a lot of stuff that needs to be done in order to optimize your company's official website and
landing pages
, and they will be explained through the 10 following tips for real estate search engine optimization.
1. Make Sure Your Website Is Fast and Responsive
The first thing you must do to establish your online presence is to build a website, which should reflect your business and present it in the best way. A company's official webpage helps potential buyers find what they need more quickly and more accessibly. Still, it needs to load as fast as possible, especially if you're running paid traffic to your site. Google prefers pages that run smoothly and quickly, which is why it gives them preference when it comes to ranking. No visitor likes to wait until the site loads completely, but they tend to leave it immediately. Therefore, the lack of responsiveness may have a negative impact on your SEO real estate practices, which may affect your business as well. Try to avoid oversized pictures and videos that often cause speed issues. Instead, make sure they're optimized for the web and are loading with the dimensions that they need to show.
2. Make Your Website Mobile-Friendly
Since people are always on the go, they will appreciate a mobile-friendly website where they can find all the necessary information right from their smartphone. Believe it or not, even
89% of new home buyers start their search using a mobile device
. They tend to check real estate offers while they're at home, work, restaurants, their friends' houses, or while waiting in line. Accordingly, your mobile-friendly website can only bring positive results. Apart from providing customers with a website that can be accessed via smartphone or tablet, mobile-friendliness helps you improve your real estate SEO practices. Namely, Google gives preference to sites that work well on mobile devices, which is why it tends to rank them higher. Not sure how to make your site mobile-friendly? Check out our
Ultimate Guide on How to Optimize Your Website for Mobile Search
.
3. Target Adequate Real estate-related Keywords
A basic SEO plan starts with targeting adequate keywords, which will be crawled by search engines in order to be ranked for SERPs (search engine results pages). Think about how buyers start their search. If they need condos for sale in La Jolla, they will probably type that in the search box:
condos for sale la Jolla
. Accordingly, if your company has such an offer, you should use that exact keyword to "tell" the search engine that your content is about that. There are many
keyword research tools
available, and each of them can provide you with valuable information about how many times the word is searched for a month and how many websites are ranking for the same keyword. However, not all the buyers will be ready to make a purchase instantly but to get some valuable information about the buying procedures and legal regulations before the final act. This means that you need to include so-called
informational keywords
to your content in order to provide your searchers with helpful content, build brand awareness and
grow your lead list
.
4. Consider Local SEO
All the businesses are advised to establish
Google My Business (GMB)
, which is critical for local SEO for real estate agents. When potential customers want to see the real estate agents that operate in their demographic zone, they will search Google using the keywords
real estate agents san Diego
, for example. They will be provided with a map pack that contains different GMB pages:
These results are critical because they provide all the necessary information about the agencies that could meet clients' needs. Therefore, the data you must include to your GMB are:
Business category
Business description
Business name
The exact location on the map
Phone number
Photos
State, city and region
Street address
Website
Working hours
Google tends to highlight the first three businesses for local searches, and its choice is mostly based on how complete the profiles are. Accordingly, make sure you include as much information as you can.
RANK IN GOOGLE TOP 10 FOR $500 MONTHLY
SOUNDS GOOD?
perfect for new, local and small businesses, includes technical seo, on-site optimization, local SEO and copywriting
5. Don't Neglect Customer Reviews
Customer reviews
are vital for every business, regardless of its type. Before making their final decision and hiring a particular real estate agent, potential customers will read all the reviews left by people who'd already had experience with the firm. There's nothing wrong with asking customers to leave a review on
Google
,
Yelp
, Facebook, or some other platform as soon as you sell a home. It will be helpful for both your business and potential clients, as well as for improving your realtor SEO. Still, it's not about a one-way communication where you're waiting for your customers to leave feedback and go – you should reply to the comment instead, regardless of whether it's positive or negative.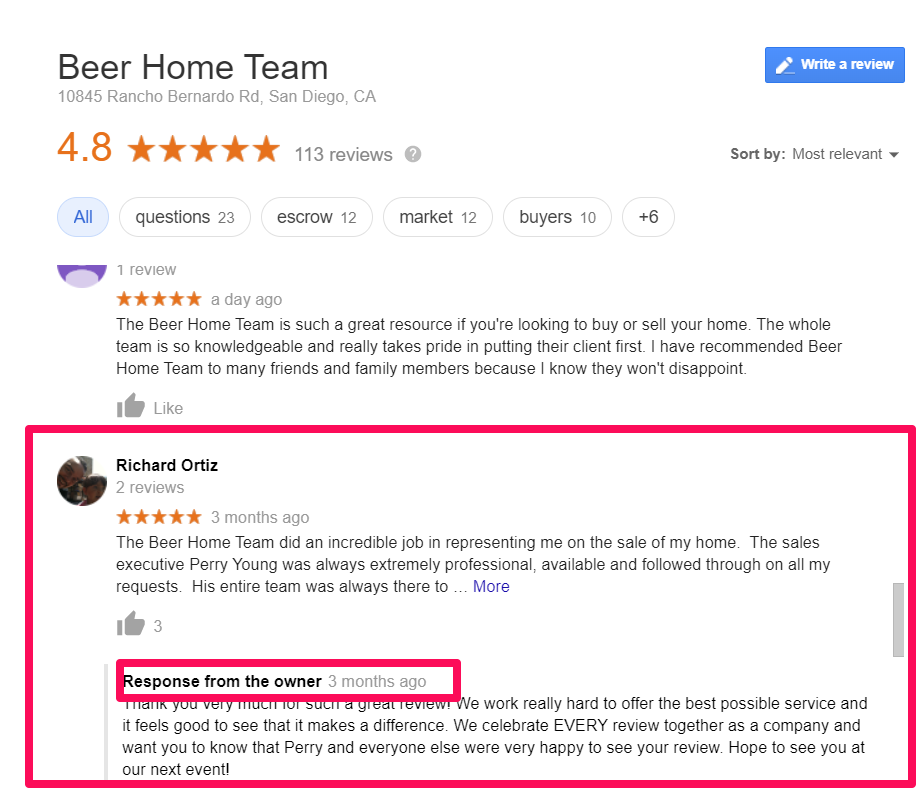 6. Create Compelling Content
Even if your website contains all the necessary information about your business, there is something else that should be added –
content
. As a real estate agent, you should provide valuable, engaging and informational content that both your visitors and Google may find useful. Content can include
blog posts
,
photos, videos, news
, and other important things that may impact your SEO. If you decide to write blog posts (which is recommended!), there is a variety of topics for you to choose from. For instance, you can create highly-informative guides on how to sell houses for the best price, how to decorate your new home, or how to calculate your mortgage. It's also critical to focus on local content, which refers to targeting city-specific keywords through texts, images, and other posts that could be found on your webpage. That way, you have more chances to be seen by local customers. For example, you can include some blog posts about the safest neighborhoods in San Diego, the cheapest rents near Oceanside, or write about any other topic regarding the targeted state and county. Still, don't forget to optimize your content with adequate search terms such as safest neighborhoods San Diego and the cheapest rents Oceanside. That way, you're allowing your searchers to explore the offers provided by your real estate agency.
7. Share Your Content on Social Media
Social media is the head of
digital marketing
. It is essential for successful and ongoing business development, mainly because people rarely watch TV ads or read leaflets left in their mailboxes. A real estate agent who's active on social media has the opportunity to establish a relationship with new clients or strengthen the connection with the existing ones. Social platforms such as
Facebook
,
Instagram
,
LinkedIn
, or Google+ are important for all the realtors who want to interact with clients on a daily basis, and they are a great way of proving expertise and gaining customers' trust. Photos and videos are crucial for boosting SEO for real estate, which is why it's recommended to be active on Instagram and
Pinterest
. You can also consider recording videos and posting on
YouTube
, using hashtags
#realtor, #realestateagent, #listing
, and more.
8. Use Backlinks to Boost Your Real Estate Agent SEO
By creating compelling content, your chances of being noticed among the real estate world are significantly enhanced. When a reputable website recognizes your content as valuable, informative and worth reading, they will probably place a link that leads to your post. Such links are known as
backlinks
, and they are something that search engines consider "votes" for particular sites. Pages that have a significant number of backlinks usually have high organic search engine rankings. Although backlinks aren't something innovative, Google still sees it as an important factor that impacts the website's placement on SERPs. Here are some facts regarding
high-quality backlinks
:
They come from trusted, highly-authoritative websites
They include your target keyword
The site or page that's linking to you is relevant to your page
9. Consider Internal Linking
Internal linking is one of the most critical SEO aspects because it establishes website architecture and helps spread link equity. Accordingly, it's vital for improving your real estate SEO. Internal links are those that go from one page on a domain to another page that's found on the same site — for example, www.realestateexample.com/san-diego-condos – www.realestateexample.com/how-to-choose-the-best-condo. Internal links help crawlers find all the pages on your website, which contributes to a better-organized site and higher rankings. Besides, they allow the visitor to navigate the website much easier, which is another beneficial SEO-friendly aspect. Make sure your posts contain links that lead to a home page and contact section – that way, you're providing a clear CTA (call-to-action) and allow potential buyers to contact you immediately.
10. Add Schema Markup to Your Website's Code
Schema markup
is one of the best ways to structure your site's code. By structuring your code, you tell Google the exact format your text should take. For instance, if your content is about describing the property, its price, number of rooms, bathrooms, etc., Google can make it look clearer and much friendlier to users. Besides,
schema markup increases a click-through rate (CTR) for 20-25%
. When it comes to real estate business, you're advised to implement schema markup to your business' listing, which includes
opening hours, contact details, phone number
, etc. Once implemented, Google will present it like this:
OrganicSoft – Step into the World of the Best Real Estate SEO Services
Being a real estate agent requires a strong and consistent relationship with your potential customers. Your buyers are mostly found on the Internet and social media, which is where you should start your journey. OrganicSoft has been in business since 2006, providing realtors with advanced SEO services. Our task is to help you establish your online presence and make your business stand out from the crowd. Don't hesitate to contact us at 858.800.2526 to enhance your real estate SEO practices that will help you sell more properties and improve ROI!