SEO Marketing Roofing Contractors
WEBSITE DESIGN
We design fast and mobile-friendly websites for roofing companies. Sites look great and have a fantastic conversion rate.
GOOGLE OPTIMIZATION
Using the science-driven method, experience, knowledge and AI tools we know the fastest way to deliver measurable results.
LOCAL SEO
Generate leads from the local community, show up in Google Maps for relevant roofing seo keywords.
PPC
We are a full-service digital marketing agency and certified Google AdWords partner since 2007. Our ads will skyrocket your conversion.
ROI REPORTS
Get a detailed ROI report at the end of a month. Know your traffic, leads number, rankings and sales.
An Essential Guide Through the Greatest Roofing SEO
Marketing has always been a powerful method of putting your business in front of your potential clients' eyes. Still, the rules of contemporary marketing have changed a bit. Instead of traditional ways, which included direct advertising through phone calls and TV, marketers we know today tend to choose subtler methods to approach people who might be interested in their services – organic results and
SEO (search engine optimization)
. When it comes to the
roofing business
, it's essential to implement an efficient SEO strategy in order to get to the first page of SERPs (search engine results pages). That way, your chances of getting more clients and developing your business are considerably enhanced. By understanding the terms of roofing SEO, your company can become a prominent name in the industry, which is a dream of every contractor. To complete your mission, start with this simple but detailed guide.
Where Lies the Importance of SEO For Roofing Contractors?
Construction can't survive without the roof, and a website can't survive without well-implemented SEO strategies. As mentioned earlier, the terms of modern marketing lie in establishing
an online presence
. Potential clients who need roofing services are likely to start their search on Google or another search engine, which means that no business should operate without a
website
that's visible on SERPs. However, it may pass some time until you become top-rated.
Significant SEO results may come even after several months
, which is why it's essential to be patient and don't give up after a month or two. That's because Google and other search engines need time to crawl through the information found on your site and to analyze the users' interaction with it.
On-Page vs. Off-Page SEO
There are two vital aspects of roofing SEO –
on-page SEO
and
off-page SEO
. Both of them are equally critical for achieving noticeable and long-lasting results, even though they encompass different concepts of search engine optimization. Since there are various ideas to be explained, we'll break these SEO aspects into segments.
On-Page SEO
On-page SEO refers to all the factors that make your website optimized for excellent user experience. It is vital for both users and search engines since it allows them to find what your site is about and whether it's relevant to what they search for. The most vital concepts of on-page SEO are:
Roofing SEO Keywords
A well-implemented SEO strategy starts with optimizing websites with appropriate
keywords
. Such keywords should be industry-related, relevant, and in line with the geographical area where you operate your business. Accordingly, you should consider the following keyword combinations:
General roofing keyword + area: roofers San Diego, roofers in San Diego, roofing services San Diego, etc.
Specific roofing services keywords: roof repair San Diego, metal roof repair San Diego, etc.
Specific roofing structure keywords: commercial roofing (in) San Diego, largest commercial roofing contractors San Diego, etc.
It's vital to implement all of the keyword forms because that's the best way to tell both users and search engines what your page is about. It's also recommended to go for
long-tail keywords
, which are less used and easier to rank for. There is a variety of
keyword research tools
that may help you choose the right ones. They will provide you with information regarding
keyword difficulty, search volume, clicks
, and other essential data that may help you come up with further strategies.
Well-Optimized Website Structure
What users don't like are confusing and maze-like websites that require you to spend some time searching for the necessary information. Therefore, you need to make sure that your website is well-structured and easily navigable for users and search engines. You can achieve it by implementing site links and internal links that considerably enhance roofing SEO experience. Apart from helping users go through the website's content quickly, a good structure provides better crawling, and thus, a better SEO experience.
A Sitemap
A sitemap represents a vital file that contains all the pages on your website and ranks them according to their relevance. It's vital to submit a sitemap of your webpage in order to tell Google which pages and files are important and indicate the critical information found there. For example, a crawler will know when a particular page was last updated, how often it is changed, and whether there is a version of the page written in another language. However, a sitemap won't guarantee that all the items that you listed will be crawled and indexed. Still, your site can benefit from it in many aspects, which is why it's recommended to have one.
Relevant and Valuable Content
Content
is another vital aspect of SEO. When you're in the roofing business, you should think about what your potential clients may search for on the Internet and try to compose content that's both compelling and industry-related. One of the topics you can choose is How to Prevent Roof Leaks. Apart from being specifically related to your industry, it can help Internet users solve their problem – still, make sure your article is
carefully proofread, grammatically correct, and contains relevant keywords that would help it rank higher
. You can use some of the following ideas to enhance your roofing SEO marketing:
How-to posts: How to Prevent Roof Leaks
Checklists: To-Do List: 10 Things to Fix on Your Roof Before Winter
Tips and tricks: 20 Useful Roofing Maintenance Tips for Permanent Results
Buying guides: A Complete Guide to Buying a New Roof
Myth dispelling: The 10 Myths about Roofing You Should've Known Before
Need some more ideas for creating compelling and SEO-friendly content? Check out these
7 Ultimate Website Content Strategies to Boost Your Rankings
.
The Latest Website Security Methods
Neither users nor search engines will show interest in your website when it's not secure enough. If your roofing company also sells materials or something else online, that means that you need to invest in the latest versions of security tools and hire a professional IT support that will make sure your site is entirely protected from different kinds of threats. One of the primary ways of protecting your website, sensitive information and passwords is the implementation of an SSL (secure socket layer) security protocol. It will establish an encrypted link between a server and a client, allowing a secure transmission of credit card numbers, social security numbers and login credentials. Websites that are secured with SSL are marked with a small padlock found on the left side of the search bar.
RANK IN GOOGLE TOP 10 FOR $500 MONTHLY
SOUNDS GOOD?
perfect for new, local and small businesses, includes technical seo, on-site optimization, local SEO and copywriting
Website Load Speed
Website responsiveness
is one of the most critical things that impact SEO rankings. If someone's waiting too long for your page to load or respond to your request, they will probably lose interest and leave your site – such behavior is not beneficial for your roofing marketing. To make sure your site is responsive enough, avoid the upload of large images that need some time to load completely and check whether there are some problems on your server that cause the site to load slowly. Still, one of the most important things to do is to make your site
mobile-friendly
. That's another factor that Google considers essential, which is why it gives preference to all the pages that function flawlessly on mobile devices as well.
Quick Tip: Use Google Analytics
The best way to get an insight into your website traffic, keyword rankings, and more, is to use Google Analytics. Google Analytics is a free tool that allows you to analyze all the data that's relevant to your website. By knowing how things are going, you can implement useful strategies and ways to improve your roofing SEO plan.
Off-Page SEO
Off-page SEO, on the other hand, can improve your rankings by having other credible sources link to your website or share it on social platforms. You can accomplish your mission by linking to those resources as well, but you need to make sure that your content is in line with the geographical area where you and your clients are, which is a factor that impacts the increase of your site's relevance. The crucial part of off-page SEO are:
Link Building
Link building
is one of the SEO aspects that can considerably increase your rankings. When you link to popular pages that are relevant to your roofing business, you show Google that you know how to recognize valuable content, which is why it will improve your link profile and SERP rankings. The most critical part of off-page SEO is
backlinks
. These are the links that come from an outside domain and lead to pages found on your domain. They are vital for both users and search engines since they determine the page's importance and value. The best would be to get backlinks from webpages that have authority. If you keep getting backlinks from sites with a poor reputation, you may be at risk of lowering your rankings.
Roofing Directories
If clients aren't sure what contractor to choose, they'll probably enter the roofing directories and search for a company that meets their needs. Therefore, you should make sure your business is listed in roofing directories to make your potential clients find you easier. You should check HomeAdvisor or similar directories that include lists of the most prominent roofing contractors. Make sure you add pictures, write unique and compelling descriptions, links, and keywords. Still, be careful with keywords since no directory will allow you to enter a lot of them.
Social Media Integration
Although earning links from external domains is a primary technique of off-page SEO, the truth is that any activity that comes from the outside of your own site can help you get higher rankings. In addition to a website, any roofing company is advised to open a business account on
Facebook
,
Twitter
,
Instagram
, Pinterest, or any other social media channel where you could promote your business.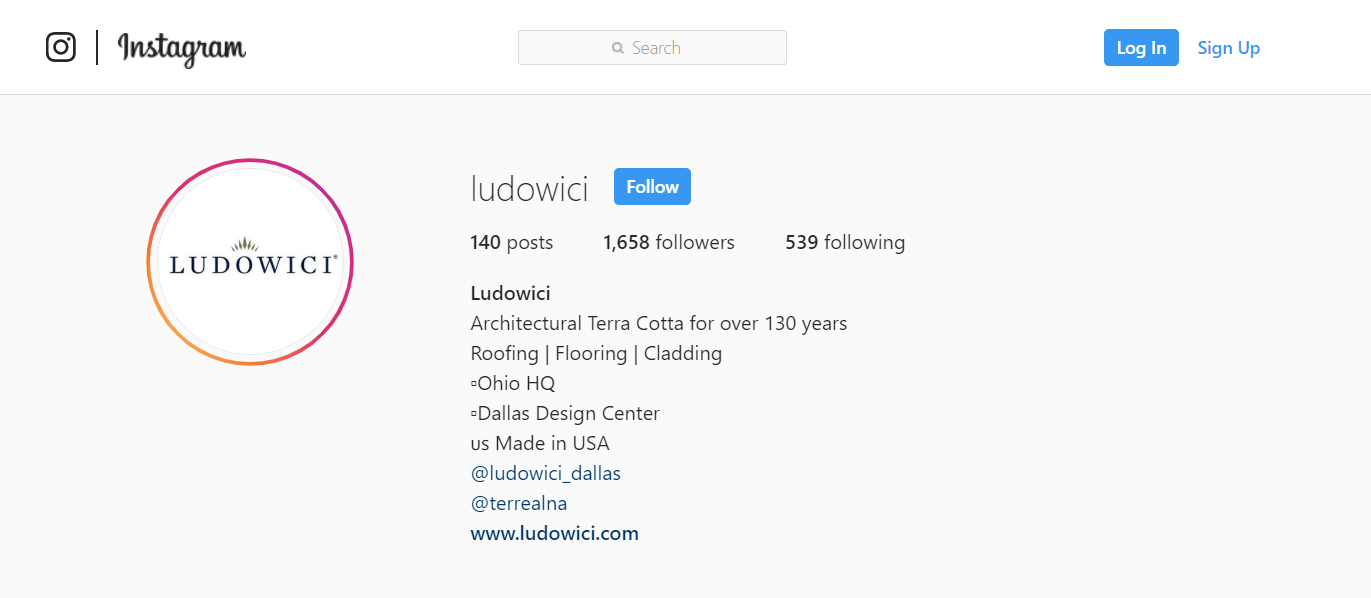 This company's Instagram profile is rich in images of their work, which is the factor customers consider valuable. Since they've included their website in the bio, they have chances to increase the site traffic and, thus, increase the rankings.
Google My Business – The Best Way to Boost Your Local SEO
Google My Business (GMB)
can help you develop your business in the local area and stand out in Google's search results. GMB will take the necessary information from your website and use them to highlight your business on the SERPs. It looks like this:
It's vital to provide accurate information about your company, which is why they will ask you to enter the following data:
Business category
Business location
Business name
Business' official website
Customer reviews
Phone number
Photos
Working hours
GMB brings another feature that can be quite beneficial for your company –
reviews
. You can ask your clients to leave a brief comment about the experience with your firm. It can help other people choose your company over someone else's and prove that your services are worth trying. In the case of a negative review, the most important is to stay calm. You should never insult your clients or claim that it's their fault, but apologize, explain the situation and tell that you're working on the improvement of your services. When other people see that you're kind and ready to accept the criticism, they will be glad to start a business with you.
Yelp – A Must-Have Platform for Roofing Contractors
As mentioned, customer reviews are essential for successful roofing contractor marketing. However, it's not enough to rely only on Google reviews.
Yelp
is the most known platform for rating businesses and leaving comments based on your experience with them. Accordingly, opening an account on Yelp can bring you a lot of conveniences and help you rank higher on the search results page.
OrganicSoft – The Best SEO & Marketing Roofing Contractors Could Imagine
As a prominent SEO company, OrganicSoft is focused on delivering measurable and long-term results to roofing contractors and helping them grow their business. Our job is to take your business to the next level via search engine optimization, technical SEO, and other vital digital advertising tools. Our experienced and professional SEO team will make sure your roofing company is ranked at the top of Google when potential clients search for it. You can have more information by calling 858.800.2526 or requesting a roofing SEO quote now.