Home Care Online Marketing
WEBSITE DESIGN
We design fast and mobile-friendly websites for home care organizations. Attract new clients and stand out from the competition.
SEARCH ENGINE OPTIMIZATION
Using the science-driven methods, experience, knowledge and AI tools we know the fastest way to deliver measurable results.
LOCAL SEO
Generate leads from the local community, show up in Google Maps for relevant home care keywords and phrases.
PPC
We are a certified Google AdWords partner since 2007. Reserve fist sport on SERP with the most engaging home care advertising.
ROI REPORTS
Get a detailed ROI report at the end of a month. Know your website traffic, leads number, rankings and sales.
10 Efficient & Creative Marketing Ideas for Home Health Care Agencies
Running a home care agency represents quite a demanding and humane job. However, you may not have a chance if people are not familiar with your existence. Today, businesses survive thanks to well-developed and creative marketing strategies that allow them to put their services in front of their prospective clients' eyes. Although it might seem easy, you should know that such a journey requires a lot of effort and willingness to succeed. Still, once you've achieved your goal, you will be happy knowing that your agency can help people who need home care. To make it easier for you, we have created a comprehensive list of 10 ultimate home health care marketing ideas that will help you reach the top and show your agency in the best light.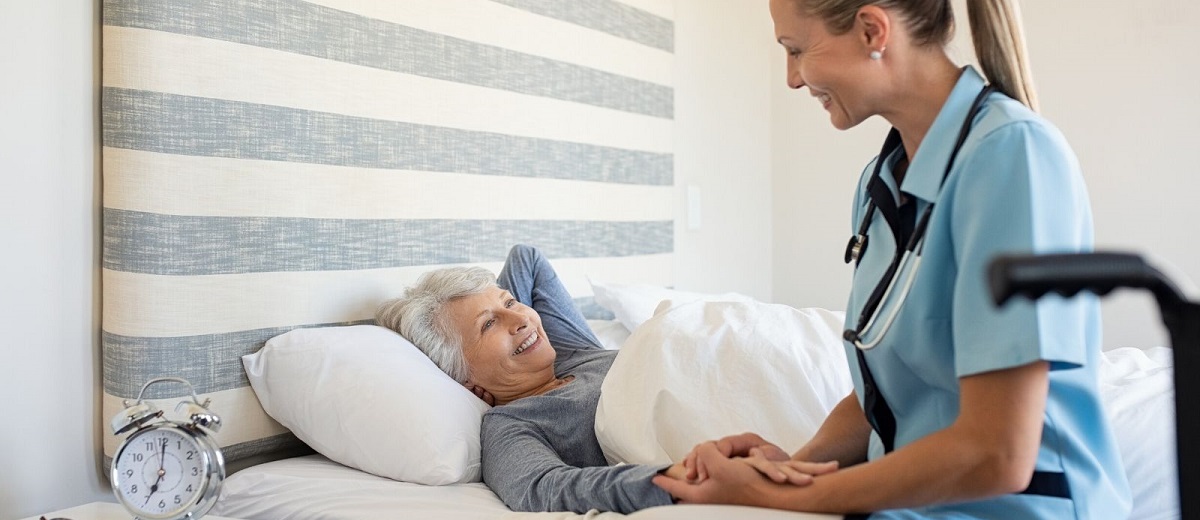 1. Optimize Your Website to Enhance SEO Practices
Search engine optimization (SEO)
is vital for achieving long-term results and establishing your existence on SERPs. The entire process requires a lot of time, patience and devotion, but once they come, the outcomes are more than amazing. It's vital to know that SEO consists of various elements that make the entire process more efficient and permanent. Namely, you need to optimize your webpages with adequate
keywords, relevant
and
compelling content, images, videos, reviews
, and other vital information about your business that would help your prospective clients find out more about the services you offer. Apart from optimizing pages for users who may become your clients, you're optimizing them for
search engines
as well. When Google, Yahoo, or Bing recognize your site as a valuable and relevant one, they will be happy to put it to the top
10 organic results
. By showing up on the first page of SERPs, you are more likely to be noticed by someone who's looking for home care services. Accordingly, your agency will start to get more phone calls and emails, which will lead to a much more improved business environment. However, you should know that performing successful SEO strategies involves a lot of knowledge and expertise, which is why you're advised to hire a professional
SEO company
that will complete such tasks for you and let you focus on what matters in your business.
2. Create a Google My Business Profile
Google My Business (GMB) is one of the options that allow you to become prominent at the local level. Apart from being free, GMB makes your business show on important virtual spots, such as Google Maps and Google Places. That will allow potential clients to find you much easier and get the information about your practice without having to visit you on-site. Have a look at the following example. We entered home care San Diego in the search box, and the results we got are placed in a separate rectangle that contains critical details about the agencies we might be interested in.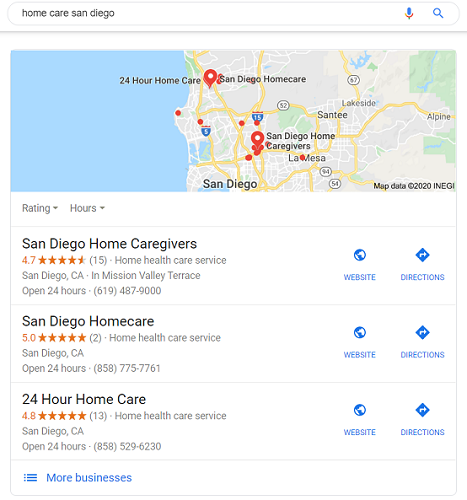 You must've seen this before, and if you were wondering what's so special about highlighted results, the answer is Google My Business. As you can see, Google shows us information about a particular agency's
working hours, location, phone number
, and
rating
. You can also visit their websites and see how to get to them. Apart from the mentioned business details, you should include the following information as well:
360-degree "virtual tour" of your office (optional, but recommended)
Business category
Business description optimized with appropriate keywords
Images
The benefits of GMB for home care marketing are numerous, which is why you should implement it as soon as you can. Make sure you provide enough information about your agency to help Google rank you higher.
3. Consider Yelp & Google Reviews as Valuable Home Health Care Marketing Strategies
Yelp
and
Google reviews
are another way of spreading your business locally. Although the primary purpose of both platforms is to allow clients to leave their reviews and opinions about companies they have interacted with, the truth is that both Yelp and Google reviews can put your agency in front of people's eyes. They will make sure your home care agency appears on maps and help people get to know your services better. They are handy for improving your local SEO practices, and you can even impact the efficiency of the overall process. Here is how:
Ask existing clients to leave a review and express their opinion on your services
Don't buy fake reviews
Respond on time
Respond to both positive and negative reviews
Use keywords when responding
Even though they might not seem crucial, all these factors can impact your business development. If you focus on asking for reviews and answering to them, there will be more chances for your agency to become a highlight result on SERPs.
4. Create Compelling, Relevant and Well-Optimized Content
If you dedicate to writing and posting the content that's relevant to the core purpose of your business, the chances of increasing your website traffic are quite enhanced. Before you start writing, you should do
keyword research
to see what users tend to search on the Internet. That way, you can create posts that are valuable for both people and search engines, which will rank your page based on the content quality and keyword optimization. Here are some content ideas you may consider:
Lists – 10 Things to Do to Prevent Falls
Tips – 15 Proven Tips to Stay Healthy in Your 80s and Beyond
"How to" articles – How to Choose the Best Home Care Services
Videos – it's recommended to record videos of your practice, employees and patients and embed them to your website.
It's essential to keep writing and posting regularly. That way, you will attract the attention of both people and search engines, which is a vital step for improving your home health care marketing practices.
5. Establish a Powerful Social Media Presence
Social media marketing is a powerful strategy that helps you reach out to potential clients. Most businesses, including home care agencies, tend to use
Facebook
to market, but the truth is that you shouldn't ignore
Instagram
,
LinkedIn
,
Twitter
,
Google+
, and similar platforms that could bring a broad range of advantages to your business. It's recommended to upload images, videos and blogs to your social media profiles and try to get as many followers as you can. To help you reduce time spent on posting, we suggest you take advantage of the free tools such as
Buffer
and
HootSuite
, which allow you to schedule posts in advance and post to multiple platforms at once.
6. Take Advantage of Paid Ads
Almost all social network platforms, including Google, offer you the opportunity to advertise your services at a reasonable price. Such ads are useful for improving your local business, mainly because they allow you to target audiences based on their
age, gender, location, preferences
, and more factors vital for developing an efficient home health care marketing plan. Since people primarily use Google for search, you're advised to start with
Google AdWords
. That way, you'll be able to reach more clients and grow your business without breaking the bank. However, we shouldn't forget to mention the benefits of
newspaper ads
. Although they might seem outdated, they are an excellent way of ensuring your business visibility, especially at the local level.
7. Ensure Unique and Strong Home Care Agency Brand
Your home care agency is certainly not the only one in the city, which is why you should make it look special and unique. By establishing a strong company brand, you provide your business with the opportunity to stand out from the crowd. Here are some tips on how to create a successful brand:
Make it unique: Think about why you're in this business and why your agency is exclusive. Convince prospective clients that you're different from other agencies and approach them more personally.
Make it simple: Make sure your motto and logo send a direct message to potential clients. Don't bother yourself with thinking about complicated and long ideas, because they rarely bring positive results to businesses.
Make it credible: Although your goal is convincing more people to use your services, you shouldn't make false promises. If your patients' experience doesn't match with your brand promise, your business may lose its reputation.
RANK IN GOOGLE TOP 10 FOR $500 MONTHLY
SOUNDS GOOD?
perfect for new, local and small businesses, includes technical seo, on-site optimization, local SEO and copywriting
8. List Your Home Care Agency on Internet Lead Sites
Internet lead sites are among the most critical marketing sources, and they can bring a significant dose of improvement to your home care agency. The most popular Internet lead sites include Caring.com, SeniorAdvisor.com, BestofHomeCare.com, etc. When your organization shows up on some of the mentioned pages, people will be more willing to contact you and find out more about your services.

9. Get Referrals from Prominent Healthcare Professionals
One of the crucial aspects of home care marketing is
getting referrals from healthcare professionals
. Those may include other home care agencies, hospices, skilled nursing facilities, rehabilitation hospitals and other healthcare organizations. By focusing on referrals, you can provide a strong pipeline of clients, which is something that plays a significant role in your business. Here is how you can obtain them:
Make a list of potential referral sources: Think about potential organizations from your area that will be willing to send you referrals. Consider senior centers, clubs, churches, and other facilities that work with the elderly. Once you've got the list, move on to the next steps.
Reach out to organizations and introduce them to your business: Try to reach out to as many companies as you can and tell them all about your business. You can contact them using phone, email, or letters, but it's always recommended to work face-to-face with them. A personal approach is often evaluated better than the previously mentioned methods since it helps you look more serious and more professional.
Benefit each other: Companies are more likely to help you if they can expect to get the same benefits from you. Therefore, explain to them how you can solve their clients' problems and offer to refer your clients to their services, as well.
Keep in touch with your referral source: You shouldn't neglect the relationship with a company that sent you referrals as soon as you get what you wanted in the first place. Maintain communication with them and express your gratitude anytime a referral becomes a new client. That way, you're showing that you're reliable, professional and suitable for further collaboration.
Working with referral sources may be an ongoing process, but its impact on marketing is significant and long-lasting. By collaborating with other agencies from your branch, the chances of becoming more prominent in your industry are notably increased.
10. Attend Seminars and Other Senior-Related Community Events
Communities dedicated to seniors and their care tend to organize seminars and other relevant events quite frequently, which are excellent opportunities to get the people to know you and your services. Such events are vital for building awareness and trust in your company but pay attention to delivering valuable insights instead of selling your services. Besides, you're encouraged to participate and volunteer for a community event; that way, your brand will reach visibility and prove itself as service-oriented. By attending seminars, conferences and community events, you allow your company to become more present, not only at the local level but also nationwide. Therefore, you're more than advised to implement this home care marketing strategy and make significant progress in your operation.
OrganicSoft – Meet the Best Industry-Driven SEO and Home Care Marketing Services
OrganicSoft gives its best to provide clients with top-class SEO and marketing services suitable for every industry. Being in business for more than 10 years allowed us to meet and explore the most critical aspects of marketing, which is why our industry-driven strategies bring excellent and long-lasting outcomes. Paid media marketing, web design, comprehensive analytics and reporting are just a part of services our SEO firm offers. To learn more, contact us at 858.800.2526, and let our home health care marketers bring your business to the next level.