Fill Your Rooms with Hotel Search Engine Marketing
WEBSITE DESIGN
We design fast and mobile-friendly websites for hotels. Attract more customers and stand out from the crowd.
SEARCH ENGINE OPTIMIZATION
Using vast experience, AI tools, knowledge in the hospitality and hotel industry we know the fastest way to deliver measurable results.
LOCAL SEO
Generate leads from the local community, show up in Google Maps for relevant motel and hotel keywords and phrases.
PPC
We are a certified Google AdWords partner since 2007. Reserve fist sport on SERP with the most engaging hotel internet advertising.
ROI REPORTS
Get a detailed ROI report at the end of a month. Know your website traffic, leads number, rankings, booking, and sales.
13 Ultimate Hotel Marketing Strategies to Attract More Travelers
Travels are now popular more than ever, which means that hotels have a lot of work. Still, when you run a hotel in the area where tourism is not as developed as it is somewhere else, you might need to implement some of the hotel marketing ideas that will help your facility increase its popularity. There are various ways of promoting your hotel. Some of them include the aspects of traditional, while others are aimed at digital marketing. Although both ways bring unique benefits to hotel management, it's vital to apply the strategies properly in order to take advantage of them. This post will present you with the 13 best hotel marketing methods you can use to improve your business performance and get more guests during vacations.
1. Create a Website to Establish Online Presence
To make sure your hotel achieves online visibility, you need to create a website. When it comes to professions in general, the website serves as a business card. Still, unlike a business card, which contains only vital information about your business (phone number, email, business location, etc.), a website should be enriched with relevant keywords, compelling images, engaging content, and the ability to make reservations online. Apart from making a website that looks user-friendly and catchy, you need to make sure that it's optimized for search engines. That way, you allow Google, Bing, or Yahoo to rank your site and place it to the top 10 SERP results. When your site has high rankings, you have better chances to be found and recognized by potential guests who're looking for accommodation while in your city.
2. Make Your Website Mobile-Friendly
About 43% of travelers start their accommodation search with mobile phones. Therefore, you need to make sure your site works seamlessly on them. The fact that even 52% of all web traffic comes from mobile devices tells us that we shouldn't neglect our website responsiveness. Such an aspect is highly-evaluated by both users and search engines, which won't rank the sites that are not mobile-friendly. If you want to bring hotel digital marketing practices to the next level, ensure your website runs seamlessly on smartphones and tablets, providing the best experience for potential guests. Pay special attention to the booking option, which should be functional and straightforward on both desktops and mobiles.
3. Set Up Google My Business to Improve Your Hotel Internet Marketing
Google My Business is the holy grail of local SEO. It allows hotel owners to manage their business information and engage with potential customers much more accessible.
Google My Business
helps your hotel become prominent at the local level, making sure you don't spend a penny on it. Once set up, GMB allows your potential guests to learn more about your hotel amenities, price, and rating, and contact you right from the result that appears on the SERP. To make that possible, make sure you complete the following steps:
Add a business category
Add a business name
Add booking links
List all businesses inside your hotel (restaurants, lounges, stores, spas, etc.)
Add new photos of your hotel
Add phone number
Add working hours
Include the location of a hotel
Include your hotel website
Write a brief business description
Apart from all the mentioned details, which are vital for introducing your customers to your business, you're advised to include the details about hotel amenities, which may consist of the following factors:
Air-condition
Airport shuttle
Bar
Breakfast
Business center
Child-friendliness
Gym
Laundry service
Here is how it looks like:
Parking
Pet-friendliness
Pool
Restaurant
Room service
Spa
Wi-Fi

GMB is beneficial for many reasons, but hotel owners appreciate it primarily because of the ability to manage their business information across Maps. Besides, a verified GMB account allows you to review traffic metrics, respond to customer reviews, and get up-to-date information about your hotel at any time.
4. Consider Yelp and Google Reviews as Valuable Hotel Marketing Strategy
Customer reviews
represent valuable information you can use to boost your hotel Internet advertising. It's essential to allow your customers to leave comments about their experience with your services, which is why you should claim your
Yelp page
, and check the reviews regularly. However, bear in mind that you need to respond to both positive and negative feedback. Although negative reviews may make you feel bad, that doesn't mean that you should ignore them. Anytime you get a comment from a dissatisfied customer, you're advised to reach out to them directly and try to solve the problem. You may offer some solutions that include
discounts
or
freebies
, but you should never be impolite or rude – such an attitude may affect your reputation in the long run. As for the positive comments, they can be quite inspirational and encouraging. Therefore, you should always respond to them, expressing your gratitude and inviting guests to stay at your hotel again. Reviews on both
Google
and Yelp can have a significant impact on your local SEO practices since they make sure your hotel appears on maps, too. You're advised to ask your guests to leave feedback about their stay at your facility and recommend you to their friends and family.
5. Advertise on Metasearch Engines to Increase Your Hotel's Popularity
Metasearch engines
are those that use the data of web search engines to produce their own results. They are particularly useful for hotel search engine marketing and hotel owners that want to increase their hotel's visibility and make it more available to travelers. The most common examples of metasearch engines designed for hotels include
Booking
,
Google Hotel Ads
,
TripAdvisor
and
Trivago
. Such websites will gather all the valuable information from different search engines and create a list of the best hotels in a particular area.
RANK IN GOOGLE TOP 10 FOR $500 MONTHLY
SOUNDS GOOD?
perfect for new, local and small businesses, includes technical seo, on-site optimization, local SEO and copywriting
6. Write Blog Posts on Different Tourism-Related Topics
Blog posts have always been an essential part of successful SEO. They can increase your website traffic, help you generate more leads, and attract more travelers to stay at your hotel; accordingly, blog posts may provide you with higher rankings. Since tourism encompasses a broad range of topics, you can always come up with
content ideas
Internet users will find engaging. Your writing should start with comprehensive
keyword research
, which will reveal the terms users tend to search, as well as their difficulty and search volume. The forms of your articles can be different, but the following ones usually achieve the highest rankings:
Lists: The Ultimate Checklist for Traveling Abroad
Tips: 10 Proven Tips for Overcoming Your Fear of Flying
"How to" articles: 5 Secrets on How to Get Cheaper Plane Tickets
Steps: 5 Steps to Complete for Getting US Visitor Visa
FAQ pages: Make sure your website has an FAQ page that consists of the most commonly asked questions and answers.
The best would be to post at least once a week, making sure your content is fresh and up-to-date. Bear in mind that
written content must be grammatically correct, relevant and well-optimized
with keywords and links in order to get better rankings.
7. Include Engaging Visual Content to Your Website
People fall for visualities and websites that look catchy and professional. High-quality images of your hotel's exterior, interior, amenities, reception, and staff will attract a user's attention and impress anyone who visits your website. You're advised to hire a certified photographer who'll create a 360-degree tour of your property, making it appear on your Google listing as "See Inside" or "See Outside."
When someone clicks "See outside," this is what they'll see: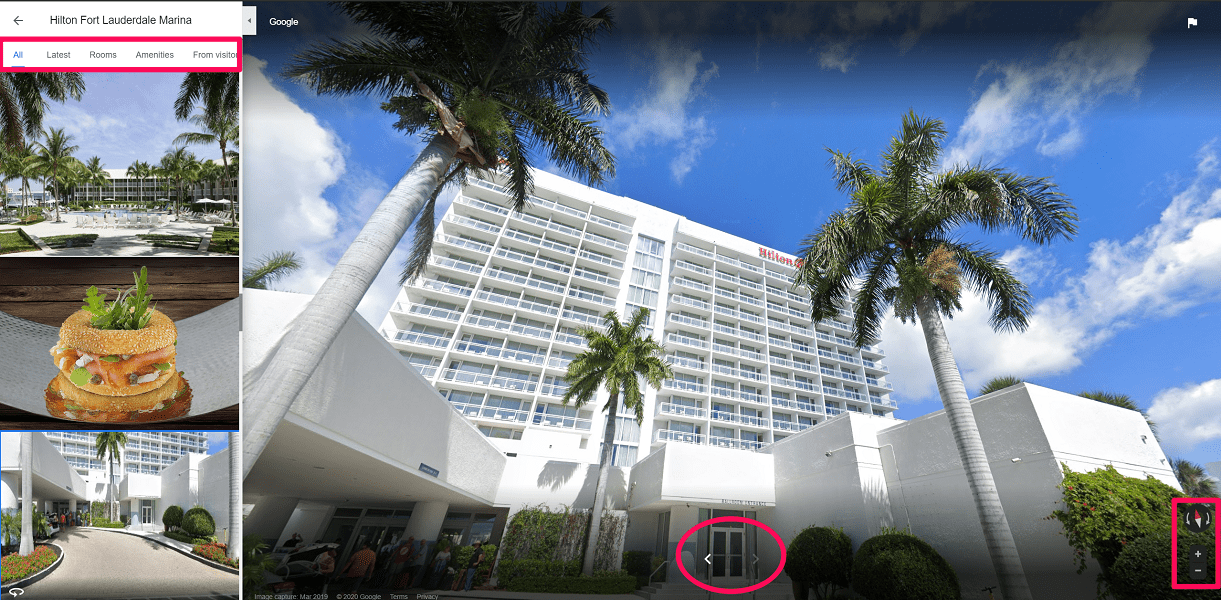 The arrows, a compass and zoom buttons allow your visitors to navigate and see how your hotel looks inside and outside. This is an excellent technique that has a positive impact on both user experience and SEO, which is a winning combination for any hotel owner.
8. Consider Video Content as One of Crucial Hotel Online Marketing Tips
Video advertising has become an efficient method for business promotion, regardless of its core industry. That said, Internet users appreciate high-quality video content they find on the popular online platforms, and it often becomes one of the reasons why people decide to try some product or services. Videos can greatly help you make a strong first impression, show the value your hotel offers, introduce your potential guests to all the amenities your hotel provides, get customers' testimonials, and give a compelling CTA (call-to-action). You can share your promotional hotel videos on social media, embed them to your website, and send them in a newsletter. That way, you'll help your potential guests get to know your hotel services better and convince them to consider you as an option.
9. Create YouTube Brand Account to Promote Your Video Content
An excellent platform for sharing video content is undoubtedly
YouTube
. Counting more than
2 billion users a month
, YouTube represents a place where you should advertise your hotel and give it a chance to be seen by prospective customers. Create a
YouTube brand account
and start posting a promotional, testimonial, or any other type of videos you find convenient.
It's essential to create high-quality and relevant video content you'll post consistently. That way, your hotel has a chance to build a long-term and fruitful online presence.
10. Use Social Media to Promote Your Visual and Written Content
Social media
has spread its power and become a real advertising beast. It can help you establish your brand, promote your hotel and engage with potential guests that might be interested in your services. Hotel social marketing can benefit from platforms like
Instagram
,
Facebook
,
Twitter
,
LinkedIn
, or Google+. You can get more followers and prospective guests by posting engaging visual and written content on some of the mentioned social media, which is a step forward to successful business development.
11. Use Email Marketing to Enhance Online Advertising for Hotels
Email marketing
is sometimes unreasonably underrated. People tend to consider it outdated and inefficient, which is a huge misconception that may make you lose the opportunity to advertise your hotel in the right way. This type of marketing represents a cost-effective way of promoting your business, and it helps you maintain contact with your guests by sending them newsletters, discount information, holiday cards, news about your hotel, etc. You can use some of
the email marketing tools
to create catchy newsletters, drive more conversions, boost website traffic, reach people on every device, and do many other things. Still, avoid sending too many emails since it may make your guests unsubscribe from the mailing list.
12. Include Chatbots to Your Hotel Website
Chatbots have proved to be critical in the hospitality industry, mainly because they help with conversions, improve your brand's reputation, and increase trust and interaction between you and your guests to be. Thanks to chatbots, you can ensure 24x7 availability. Therefore, you can expect improved communication and more bookings than you had before you implemented such software.
13. Improve Your Digital Hotel Marketing with Social Media and PPC Advertising
The most common types of paid Internet advertising are
PPC (pay-per-click)
and
Facebook Ads
. PPC is a type of Internet marketing strategy where advertisers pay a particular fee anytime a user clicks on their ad. PPC campaign is excellent for driving traffic to your website, and it's convenient for sites that still can't reach organic rankings.
Google Ads
is considered the best PPC platform, and it allows you to create ads that will appear on Google's search engine and other Google properties. Here is how they look like:
Facebook ads, on the other hand, allow you to create sponsored posts targeted at a specific audience. Besides, you can choose the following aspects to make sure your ad is directed to the right people:
Choose the platform where you want to run your ad (Instagram, Twitter, Messenger, or specific mobile devices)
Set your budget
Choose ad format (image, video, multi-image)
And more.
OrganicSoft – SEO and Hotel Marketing Agency Beyond Compare
OrganicSoft is a hotel digital marketing agency that's been in business for more than 10 years. We know how important it is to make your hotel stand out from competitors, which is why we offer ultimate SEO and digital marketing solutions that will bring significant changes. All you need to do is to contact us at 858.800.2526 and step into the endless world of possibilities provided by our SEO firm.