WEBSITE DESIGN
We design fast and mobile-friendly websites for doctor's offices that look great and have fantastic conversion rates.
SEARCH ENGINE OPTIMIZATION
Using the science-driven methods, experience, knowledge in healthcare niche and AI tools we know the fastest way to deliver measurable results.
LOCAL SEO
Generate leads from the local community, show up in Google Maps for healthcare and doctor keywords and phrases.
PPC
We are a full-service digital marketing agency and certified Google AdWords partner since 2007.
ROI REPORTS
Get a detailed ROI report at the end of a month. Know your website traffic, leads number, rankings and sales.
SEO for Doctors: How to Get the Best Results Using the 10 Greatest Tips
Doctors always have a lot on their plate, which is why you must be wondering,
Why would they care about SEO?
The truth is that
search engine optimization (SEO)
has become an inevitable part of every industry – from
law
and
real estate
to the
roofing
one. Accordingly, doctors who run their own practice need to approach their prospective patients, showing them what they have to offer. SEO for doctors represents quite a complex idea since it involves a lot of resources, paid tools, and, most importantly, a lot of time that doctors shouldn't waste. They're advised to hire a
professional SEO partner
that will do the entire process for them, allowing doctors to perform their job of helping people. This guide will explain the main concepts of healthcare SEO and its importance to your private practice.
SEO for Doctors: Why Is It Important?
A busy way of life has impacted the development of mobile devices that help people do things on the go. We frequently search for the best pubs, restaurants, and even clinics near us using Google or other search engines since that's one of the easiest ways of finding the necessary information. If your small clinic hasn't established its online presence yet, it has no chance to be found on the Internet, which is a pity. When your practice has a well-organized website, it has a broad range of opportunities in front of it – more patients and a higher ROI are just a small part of it. If you still think that doctors don't need SEO, let us dispel that myth!
1. Create a Website and Optimize It with Adequate Keywords
The first thing you should do in order to start your doctor SEO journey is
creating a website
. Your website should represent your business in the best way, which is why it should be optimized with relevant photos, videos, texts, and
keywords
that would tell users and search engines what your content is about. Using the right keywords to optimize your website's content opens the door to high Google rankings. As a doctor, you should implement the keywords that include your
location, specialty
,
symptoms
, and
health conditions you treat
, as well as the procedures you perform, and people are searching for. So, if you're an
ophthalmologist
, you can use some of the following keywords while creating your homepage and other content:
Ophthalmologist
Myopia symptoms
Laser eye surgery
Cataract surgery
And more
It's always recommended to include a location name in your keyword since that's one of the best ways of
targeting local patients
who may be interested in your healthcare practice. Apart from
local keywords
, you are advised to implement
long-tail keywords
, as well. Such keywords are longer, which is why they're easier to rank for – besides, more people are looking for them. Some of the long-tail keywords you could mention are:
How to clean your glasses
How to prevent contact lenses from falling
Can I wear contact lenses while playing sports
And more.
If you're not sure from where to start, check
The Ultimate List of the 5 Most Effective Keyword Research Tools
that will give you a clue regarding the keywords you can use to get the highest rankings.
2. Make the Website Mobile-Friendly
Smartphone devices have become a crucial part of us. Therefore Google prefers
responsive web design
that supports a user's actions regardless of the type of device they have. Accordingly, your site should work properly on
desktop, laptop, smartphone
, and
tablet
, providing the best user experience. That means that all the images, forms and video content should load quickly, without bugs and screen incompatibilities. As mentioned, Google prioritizes the mobile-friendly sites, which is an excellent opportunity for boosting doctor SEO rankings.
3. Make Sure Your Website Loads Quickly
No one, including Google, likes the sites that need a lot of time to load. When they notice that your webpage loads slowly, they will probably decide to leave it – such actions may have a negative impact on your overall doctor SEO, which is why you should fix the issue as soon as possible. Google offers a free site speed tool, which can help you check whether your site is fast or not. If Google sees that your webpage needs speed improvements, it usually recommends doing the following things: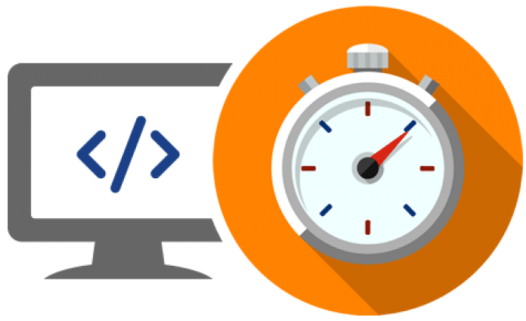 Increase the hosting speed: A web hosting platform your site runs on may be responsible for long loads. Hence, choose only the proven platforms that won't cause any problems regarding the speed and other critical website's components.
Remove unnecessary coding: Codes that aren't necessary may cause speed issues, and you should remove them if you notice a speed decrease.
Compress large files: Large images and videos on your website may cause problems while loading. To avoid that, you can compress all the data and speed up the load time.
4. Write a Useful, Relevant and Engaging Content
Content is the crown of successful SEO, and you need to pay a lot of attention to it. As an ophthalmologist, for example, you should think about what patients would like to know regarding their eye health. They use the Internet to find the answers, and you're going to provide them with some. Let's imagine that you're writing about the ways of protecting eyes from the computer screen. In content writing, it's not only about mentioning the exact methods and writing the title
Ways to Protect the Eyes from Computer Screen
. The title is correct, but it lacks some elements. Look at the following heading:
10 Science-Based Tips to Protect Eyes from Computer Screen
It will attract readers more than a title you saw in the previous paragraph. It sends the same message but with a bit enhanced effect, which is accomplished by:
Number (10): A number in a title will capture readers' attention since they will know the exact amount of things they're about to read. Also, a title looks more compelling with a numeral in it.
Attribute (science-based): When someone sees that the facts you list are science-based, proven, efficient, etc., they will guess that the content comes from a credible source that can be trusted.
Tips & Tricks: Tips and tricks have always been eye-catching options for article writing. They indicate that there is a solution to someone's problem, which is why users will be glad to read your suggestions.
Keyword (protect eyes from the computer screen): By including a keyword to your heading, you're telling both users and search engines what your post is about. Also, you have more chances to rank higher in that case.
You can also "pack" your content into
step by step articles, buying guides, infographics
, etc. However, try to
avoid jargon
and complicated language that could confuse your readers –
use an easy-to-read and straightforward style
that will make the post accessible to anyone.
RANK IN GOOGLE TOP 10 FOR $500 MONTHLY
SOUNDS GOOD?
perfect for new, local and small businesses, includes technical seo, on-site optimization, local SEO and copywriting
5. Set up Local SEO for Doctors
One of the best and free options to boost your medical SEO is
Google My Business (GMB)
. Once you've set up an account and entered all the necessary information about your practice, you may expect to see your business on the top of search engine results. For example: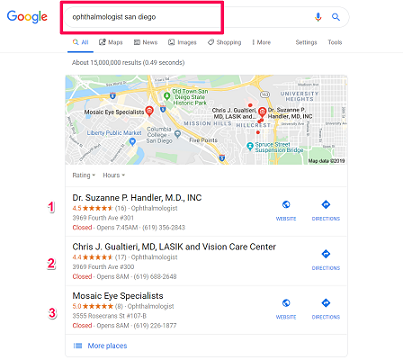 You can see that Google lists only the first three results. That usually means that such healthcare practices have provided a sufficient amount of information, including
business name, location, category, working hours, phone number, photos
and other information that's considered vital. If you notice that your business isn't appearing on the top three results, pay attention to the following things:
Check whether you've entered all the necessary information
Update working hours
Write a detailed description of your business
Add your business images to your profile
Ask for reviews, and make sure you receive the positive ones mostly.
By establishing Google My Business, you'll notice that you receive more phone calls from prospective patients and that your website traffic has increased. Altogether, your doctor SEO practices will be considerably enhanced.
6. Ask Patients for Reviews
Reviews and ratings
are essential for enhancing online marketing for doctors, mainly because they often "invite" other people to visit your practice. The patients' opinion is considered important for a practice's reputation, but it's also valuable for SEO experience. The more the reviews you have, the higher the chance of being shown on Google's first page. Therefore, more people will have an opportunity to find your small clinic and check it out. Even if there's a negative review, you shouldn't be worried. Negative comments usually show that you're a real doctor who's not perfect, but who's available for everybody. Besides,
it's essential to respond to both positive and negative reviews
. Speaking of the positive ones, don't hesitate to express your gratitude; as for the negative ones, apologize and offer some kind of discount when the patient comes to see you again. By responding to reviews, you show other people that you're more than a doctor, which is the thing that people often appreciate. Apart from Google, which is a convenient platform for leaving reviews, you can consider
Yelp
, as well.
7. Get High-Quality Backlinks
Backlinks
are used to indicate the credibility and authority of your site, and therefore, you should have ones. Still, you need to make sure that your backlinks are coming from
reputable third-party websites
since they bring positive effects to SEO. Even though getting high-quality backlinks may be a time-consuming process, you, as a doctor, have many opportunities to achieve them. For example:
Medical organization: If you have a profile on any medical organization's website, you can include the URL of your site there.
Medical directories: By being included in medical directories, you have more chances to be noticed and get valuable backlinks. However, make sure your practice is listed in a directory that's specifically related to your medical specialty since it brings better results.
Social media: You can link your practice's social media to your website since Google sees such platforms as highly reputable.
8. Consider Social Media Integrations
Being active on social media means that your opportunities for business development are significantly enhanced. Successful internet marketing for doctors is achieved through social media, which has proven its efficiency in improving SEO experience. The links from social networks, such as
Facebook
,
Instagram
,
Twitter
,
LinkedIn
, and others, can deliver significant SEO results to your practice's website, mainly because they're reputable in Google's eyes. Social media profiles bring a lot of features you can benefit from. Instagram allows you to post engaging photos related to your medical specialty, you can share engaging posts on Facebook, and you can connect with influential people from your branch using LinkedIn. And that's not all. You're highly recommended to create social media accounts and post on them regularly since that's the way of meeting the benefits of digital marketing for doctors.
9. Use the Proven Strategies to Increase Your Website Traffic and Generate More Leads
Website traffic is a crucial factor that impacts SEO for doctors. When Google sees that many people are visiting your website, it will probably give it more authority and award it with higher rankings. Apart from advancing your SEO aspect, website traffic can help you develop your practice as well. There are many ways of increasing your traffic, among which are the following:
Newsletters: This is one of the most common email marketing strategies that consists of informing the patients from your mailing list about the latest discounts, services, and products that your practice is offering.
Social media: You can significantly increase your website traffic by building up an audience on social media.
Ads: Advertising on social media is another powerful resource you can use to boost your website traffic and enhance marketing for doctors. You can use the ads to target a specific audience, drive them to your website, and convert them into your patients.
Need more ideas? Check out these
11 Proven Strategies to Increase Website Traffic
.
10. Take Advantage of Google Analytics
Google Analytics is a free SEO tool that provides you with detailed information about your website activities. It can deliver vital statistics about the number of site visitors, which pages are the most popular, from which ones patients usually leave, and whether your traffic comes from organic, paid, or social media results. Such information can help you determine the next steps of achieving the best healthcare SEO practices and come up with innovative and well-planned marketing ideas for doctors.
OrganicSoft – Professional & Cost-Effective SEO for Doctors
SEO journey is a long and demanding journey, especially for doctors whose goals require absolute devotion and hard work. To bring their healthcare SEO practices to the next level, doctors are advised to hire a professional SEO company that will ensure high rankings, increase website traffic and provide exceptional local SEO experience. OrganicSoft can do all that for you. Contact us at 858.800.2526 and discover more about what we can offer.